Granny Weatherwax, pictured above right with her friend Miss Tipsy, found her way to me early in September 2011. She was not in the best nick.
Granny had appeared at a friend's house, bedraggled and hungry. When I saw the state of her, we headed straight to the vet. Fachtna reckoned she was about ten years old, and noted a slight wheeze in her chest, but nothing to worry about. But Granny was skanky and skinny, with one eye mostly black (probably a bleed) and hardly any teeth left. She was already neutered (so another needless operation) -- and it turned out she was FIV positive to boot. Bit of a mess really.
Just my kind of cat.
With all of her problems, it didn't seem realistic to try and find a home for her. So she was settled in at mine pretty much straight away. Despite her course of antibiotics she looked a wreck for weeks and weeks. Until, in November, we put her on painkillers because she'd developed a wee bit of a limp. And suddenly she started filling out and cleaning up! So we reckoned there was maybe a bit of rheumatism there -- and the pain killers turned her into a different cat.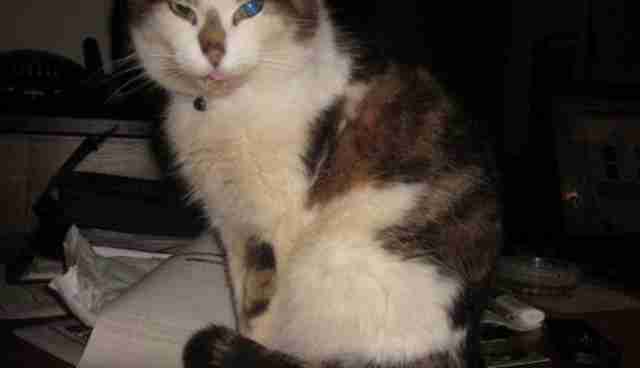 Her life carried on, happy and uneventful, until in the summer of 2013 she came down with one illness after another -- pneumonia, severe mouth ulcers and heart problems. The lowered immune of FIV leaves cats vulnerable to illness and we thought, again, that her days were numbered. But she's a tough auld cat, and she pulled through every time. She didn't have many teeth to begin with (which is why her tongue hangs out much of the time), and now she has only one. And she'll be on heart meds for the rest of her natural.
But she still enjoys a sunbeam and a snorgle. And, like many rescue animals, she's most grateful for the extra time she's been given. A survivor and a most affectionate puss.
Related Links
#MyRescue #dodopets