Lonely Grandma Writes Letter To Santa — And Gets Just What She Wanted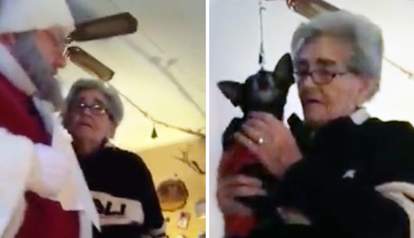 <p><a href="https://www.facebook.com/fureverfostersanimalrescue/videos/1103835572988479/" target="_blank">Facebook/Fur-Ever Fosters</a></p>
Ann Upton had been saddened to think she would be spending Christmas all alone, but now she's planning on celebrating the holiday with her new best friend - not, as she's quick to point out, her three absentee sons.
In a desperate bid to ease her loneliness, the 84-year-old grandmother from Michigan mailed a letter to Santa Claus this year asking for one thing and one thing only: a Chihuahua to keep her company. The tender note ended up in the hands of Nila Dubas, a postal worker (and special envoy of Saint Nick), who was so touched by her simple wish that she set about trying to help.
Dubas got in touch with rescuers from the group Fur-Ever Fosters who just so happened to know a friendly 8-year-old dog, named Lady Bug, who was hoping to find a new home. This week, Santa dropped by Upton's place personally to deliver the pup - making both of their wishes come true.
Now that she has a cute new addition in her life, perhaps Upton's sons will see fit to visit more often - but regardless it's delightful to know that she and Lady Bug will have each other this Christmas, and hopefully for many more Christmases to come.