Grandma With Alzheimer's Is Totally Transformed Every Time This Puppy Visits
"As soon as the dog is put in front of her, she stops and just plays."
It's amazing what some quality time with a little dog can do to lift the spirits — just ask Richard Dawson, who's seen his ailing grandmother, Winifred Lowe, transform every time she gets a visit from her favorite puppy.
"My 95-year-old Nan has Alzheimer's, so she cries a lot and gets very angry and confused," Dawson wrote in a post online. "We started borrowing a dog and now this happens."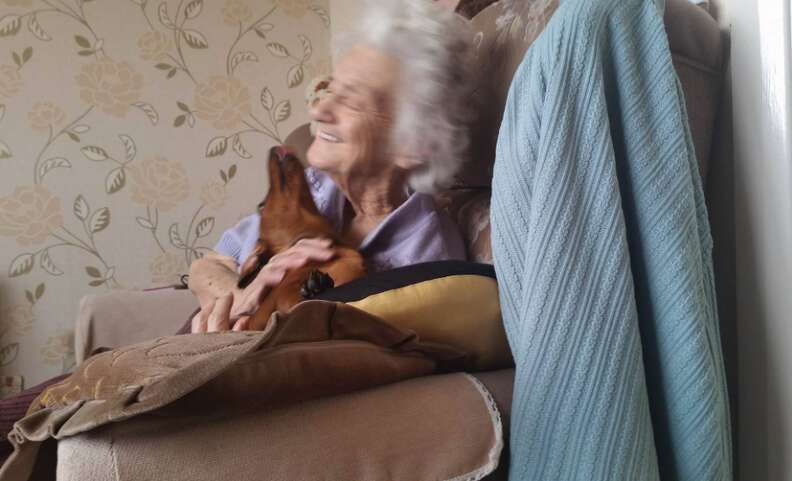 Dawson, who serves as Lowe's live-in caretaker along with his brother, recently discovered a service, called BorrowMyDoggy, which pairs dog owners in the U.K. with people who could use a little canine affection.
That's how they met this 9-month-old dachshund, named Orla.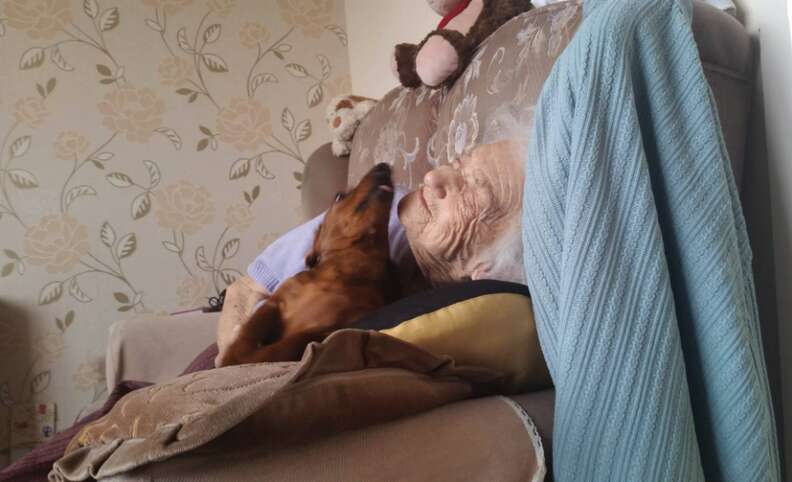 "[Orla's owner] brings her over every Tuesday and Thursday for a few hours for Nan to play with," Dawson told The Dodo. "As soon as the dog is put in front of her, she stops and just plays. It makes her forget her worries and pain."
As these adorable photos show, Lowe couldn't be happier about the visits — and the feeling is mutual for Orla.
"She's still a puppy, so she loves the attention," Dawson said.
The health benefits of animal companions have been well-documented — so for families who, for whatever reason, are unable to have a pet in the house full-time, a service like this one is heaven-sent.
"The responsibility of a dog on top of caring for my grandparents would be too much," Dawson said. "Being able to borrow a dog like this is a great opportunity, especially if the person with Alzheimer's had dogs when they were younger."
Although BorrowMyDoggy is geared toward pet owners in the U.K., similar services are available in the United States. Of course, you can always contact your local animal shelter to find volunteer opportunities, or to simply visit with pets who'd love some extra attention.