Rescued in 2007 from Michael Vick's dog-fighting ring, Gracie, who passed away at close to 11 years old on Monday, defied the negative stereotypes surrounding pit bulls. She may have suffered as a breeding dog, but her second act was marked by quiet grace - or, as Will Lowery told The Dodo, at least being a bit of a couch potato.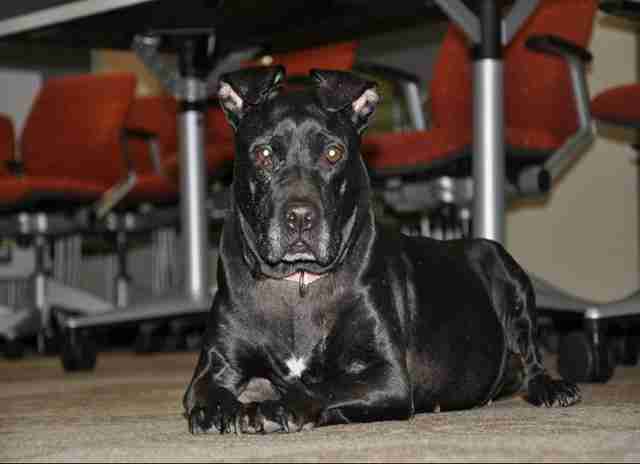 Lowery is a founder of Gracie's Guardians, a pit-bull-focused division of Richmond Animal League. One of about 50 dogs rescued from Vick's fighting ring, Gracie was adopted by a board member of the organization, Sharon Cornett, and the group decided to name itself after the calm pup. Upon first meeting the pit, "You could tell right away she was a laid-back, well-tempered dog," Lowery said. To hear him say it, she wasn't exactly a hyper or bubbly dog, but was rather most at home on the sofa and needed a bit of coaxing to go for a walk.
And she was a regular fixture at Richmond, Va., high schools, animal adoptions and rescue events, Lowery said, welcoming petting hands from all across the community as an exemplary pit. Gracie's Guardians, as a pit bull group in an urban setting, takes on a hefty amount of work for a small volunteer organization - from encouraging pet owners to bring dogs inside (rather than keeping them chained outside overnight) to providing vouchers for spaying and neutering.