Dodo Contributor: David Kirby is a freelance writer and writes primarily about animals.
In this age of bitter partisan warfare, it's heartening to know that lawmakers - in New Jersey, at least - unanimously agree on one thing: Puppy mills are a wretched way to breed and sell pets.
Last week, both houses of the New Jersey legislature passed the Pet Purchase Protection Act with an astonishing vote of 74–0 in the Assembly and 37–0 in the Senate. The bill is now on the desk of Gov. Chris Christie waiting to be signed into law - or vetoed. The bill would require pet stores in the state to disclose to customers and municipalities the identity of breeders and brokers who supply dogs and cats to the stores. It would also block stores from acquiring animals from anyone who is not in compliance with New Jersey animal-care standards or has been cited by U.S. Department of Agriculture (USDA) for violations of the federal Animal Welfare Act (AWA).
Republicans, who are sometimes accused of being less supportive of animal-welfare legislation than their Democratic counterparts, were enthusiastic about the bill.
"We've heard too many stories about puppy mills that breed and keep too many animals in unhealthy and inhumane conditions," said three GOP lawmakers and bill sponsors in a joint statement: Sen. Jim Holzapfel (R-Ocean), Assemblymen Dave Wolfe (R-Ocean) and Greg McGuckin (R-Ocean). "By requiring pet stores to disclose a cat or dog's history, consumers will have the opportunity to do their research ahead of time, so they can make an informed decision. We hope that this legislation will help put bad breeders and brokers out of business and ensure that fewer families suffer from the financial burdens of an unhealthy pet."
(Photo: Wikimedia)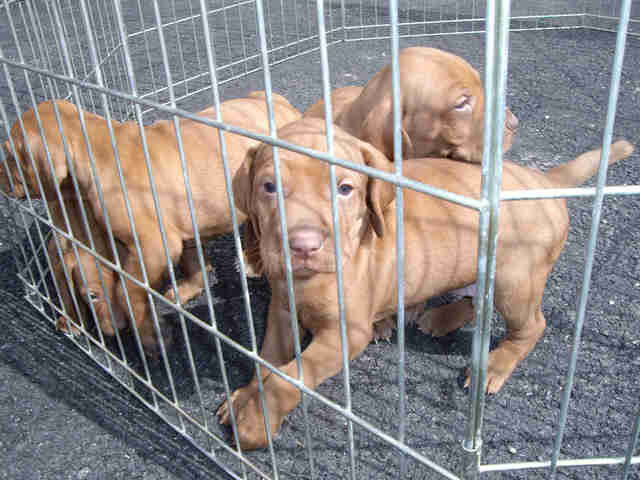 The majority of dogs sold in pet stores come from puppy mills, according to the ASPCA. Many of the facilities are basically overcrowded, inhumane animal factories, "where profit is given priority over the well-being of the dogs," the group's website says. "Unlike responsible breeders, who place the utmost importance on producing the healthiest puppies possible, breeding at puppy mills is performed without consideration of genetic quality. This results in generations of dogs with unchecked hereditary defects."
Inbreeding and breeding of sick or genetically inferior dogs often leads to severe, chronic health problems for the animals born in puppy mills, including epilepsy, heart and kidney disease, muscle and skeletal disorders, endocrine disorders, blood diseases, and problems with sight, hearing and breathing. The practice is not only tough on puppies, but clearly inhumane for their mothers, who remain at the breeding factories, confined to cages for the rest of their lives and 'bred to exhaustion,'" the ASPCA contends.
The ASPCA has produced a "No Pet Store Puppies" web page to direct potential pet owners to stores that only offer animals for adoption. It includes a database of more than 17,000 gut-wrenching photos taken during USDA inspections, "allowing the public to see first-hand where pet store puppies really come from," according to the organization.
The ASPCA worked closely with the New Jersey bill sponsors to successfully usher through the legislation. "The ASPCA thanks New Jersey lawmakers for taking a positive first step towards ending puppy mill cruelty throughout the state by screening out some of the most egregious offenders," Debora Bresch, senior director of ASPCA government relations for the Mid-Atlantic region, told The Dodo."While there are large-scale breeders in the state, this bill focuses on the sources from which New Jersey pet stores are obtaining puppies for resale," Bresch added. "In many cases, those sources are out-of-state breeders and brokers. While we believe this bill will go a long way in protecting pet store puppies in New Jersey and New Jersey consumers, we also believe that it will put significant pressure on the commercial breeding industry nationwide."
According to Bresch, pet stores in the Garden State are currently permitted to sell dogs and cats with minimal regulatory oversight. "Stores can sell puppies from any breeder or broker, no matter how inhumane the conditions they were raised in or the mother dogs may be consigned to," she said.
For now, all eyes are on Christie, who is mulling a run for the GOP presidential nomination in 2016. Officials at Christie's office did not respond to a request for comment, and it is uncertain how the governor will act, even though members of his own party sponsored and voted for the bill.
But if history is any guide, Christie may choose business interests over the rights of dogs and the consumers who purchase them in his state. In September, he vetoed a bill that would have banned the use of cramped gestation crates for pigs raised in New Jersey. The state produces relatively few pigs, but that is not the case in Iowa, site of the first presidential caucuses. Iowa also has a large number of puppy mills. "Please help get this important bill through the next legs of its journey," the ASPCA is urging members of the public, "by placing a quick, polite call to Governor Christie at (609) 292-6000 and ask him to sign (the bill) into law."