Tame Gorilla Abandoned In Forest After Spending Childhood As Someone's Pet
A hungry young gorilla was recently discovered all alone, foraging for food in a village in eastern Cameroon.
Villagers spotted the gorilla in a mango tree and contacted the Ministry of Forestry and Wildlife, which reached out to In Defense of Animals - Africa to help the gorilla, estimated to be around 5 years old, get back to where he belongs.
Sadly, this gorilla didn't seem to belong anywhere. He was unusually friendly with humans, which was a bad sign for his survival in the region, where gorillas are illegally hunted for their meat.
Luckily, people knew just the place: the Mefou Primate Sanctuary, run by Ape Action Africa. The gorilla was welcomed into the sanctuary in early June and named Parry, after a longtime supporter of the sanctuary.
Still, the details of Parry's origins are a mystery.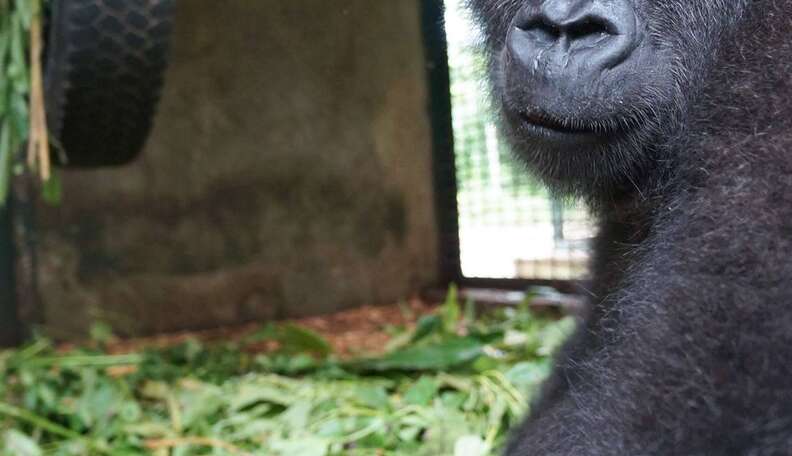 "We will never know exactly where Parry came from," the organization wrote on Facebook, "but he is very friendly and has no fear of humans, suggesting that he may have been kept as a pet."
It isn't uncommon for young apes to be torn from the wild and sold as pets after their mothers are killed for meat, the organization wrote. Typically, once the baby apes grow to be 4 or 5 years old, they become harder to manage, so they're often abandoned in the forest, left to fend for themselves.
An X-ray showed bullet fragments in Parry's arm, confirming the sad story the sanctuary feared: Parry's mother was likely killed before Parry was kidnapped and sold.
"We can never replace the family that Parry has lost, but we have made a lifelong commitment to providing him with friendship and happiness amongst our other gorilla orphans," Ape Action Africa wrote.
Soon, Parry will be ready to meet the other gorillas, who will form a new kind of family for him. He's already grown curious about them from a distance.
When Parry saw Chickaboo, Luci and Chris, three of the sanctuary's other gorillas, he seemed to feel calm. When they moved out of sight, he became anxious until they returned. When the three came back, they stayed close to Parry's enclosure.