Retriever Found In Rough Shape Begins New Life At Graduation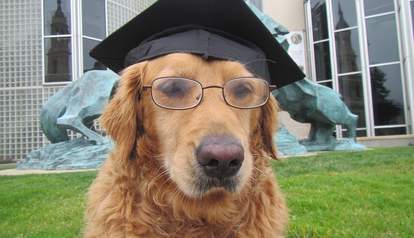 Last week I took my golden retriever, Morgan, to visit my alma mater, the University of San Francisco. It was a little shocking when I realized that it's been 35 years since I graduated. It made me think about the importance of my education and the opportunities it opened for me.
As I took a photo of Morgan with my old graduation cap atop his head I thought about how important it was to train him. Seven years ago Morgan came into my life from a rescue group in Los Angeles. He had been turned in to a dog shelter in South Central LA when he was just one year old. He was my first rescue and was in rough shape - undernourished and untrained, with no social skills. I had no idea what I was getting into.
I had raised my previous goldens, Nicholas and Willy, from puppyhood and their training was uneventful and fun. Nicholas and I trained for a whole year with the San Francisco SPCA. With Willy, I took what learned and trained him myself. But with Morgan it was completely different. Within the first week he bit me twice when feeding him. It was a real wakeup call that I needed help. This was definitely not going to be as easy as my first two dogs. Since Morgan had no training as a puppy he had the social skills of an immature dog in an adult size body. First Morgan had to unlearn his bad habits of barking at every dog that walked by and also trusting that not only would he be fed at a regular time but that there would always be ample food for him.
But this was just the beginning. He also needed to bond to me. He had to constantly be leashed or he would just run off aimlessly. Our visits to the dog park were exhausting but not in a good way. We found the perfect American Kennel Club (AKC)-sponsored class run by the Palm Springs Kennel Club. The instructor was a no-nonsense ex-cop who had trained police canines. The drills was rigorous, but I could see Morgan improving week to week as the lessons took effect. I know he liked them too because every week he would jump into the passenger seat of my truck afterwards and look over at me with a big grin on his face. l'll never forget the night he put his paw on my shoulder as we were driving home. After every class when we pulled into the driveway he would dash inside to the kitchen and sit waiting for his dinner.
Morgan and I needed to repeat the course three times until he finally passed the obedience test. I was so proud on that graduation day when my boy was presented with an official score card declaring that he had earned his AKC Good Canine Citizen Certificate. Whether your dog is a rescue or from a breeder, a purebred or a mutt, big or small, teaching your canine companion the basic command lessons is so important to them and you. It may very well save his/her life one day. Also, a well behaved dog gets to go to so many more places with you besides the dog park and what could be more fun than that?