Little Boy Donates His Duck Costume To Rescued Goat With Anxiety
"He just loved that he was helping Polly."
Goats of Anarchy
Last year, Leanne Lauricella, founder of Goats of Anarchy, a goat rescue group, stumbled upon an unlikely solution to Polly's anxiety in the form of a child's duck costume from Marshall's.
Lauricella originally bought the costume for Halloween - she thought she'd put it on Polly and take a few cute photos for Facebook. But once Polly was wearing the duck costume, something miraculous happened - Polly stopped crying, got very still and eventually fell asleep.
Goats of Anarchy
After this discovery, Lauricella started putting Polly into the duck costume whenever she had an anxiety attack. Each and every time, Polly calmed right down. And soon the internet fell in love with Polly's story.
Now Polly has gotten bigger - too big to fit in the size 12 duck costume Lauricella had bought for her. Lauricella thought about looking for another duck costume the following Halloween, but a different solution recently presented itself.
A little boy named Harrison had heard about Polly and her anxiety issues, and he wanted to help. Coincidentally, he also wore the same duck costume this past Halloween.
Goats of Anarchy
"[Harrison's mother] reached out to find out which size Polly was wearing," Lauricella told The Dodo. "So I told her, and she said, 'That's perfect - my son has the next size up, and would love Polly to have it."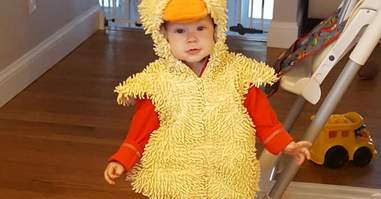 Goats of Anarchy
"Then she wrote to me, and said, 'We sent the package to you today,'" Lauricella said. "Her son gave the costume one last hug at the post office, and they wrapped it up together and said goodbye. It was really sweet that a little boy that young wanted to donate his costume. He just loved that he was helping Polly."
The new costume fits Polly perfectly and, according to Lauricella, it has the same magical effect on her. "I put it on her today and she just fell asleep - instantly," she said.
Now that Polly's outgrown her old duck costume, Lauricella tried putting it on Pippa, a baby goat who lost two legs to frostbite.
Goats of Anarchy
The duck costume doesn't have the same effect on Pippa, but then again, Pippa doesn't have anxiety like Polly.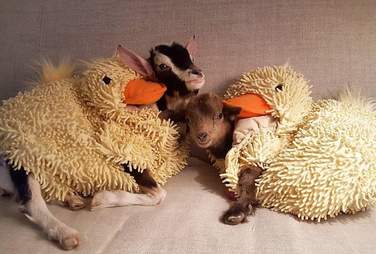 Goats of Anarchy
Still, Pippa doesn't seem to mind wearing it, especially if it means hanging out with Polly.
Goats of Anarchy
Polly and Pippa are inseparable, according to Lauricella. "If I pick up Polly to change her diaper, Pippa starts screaming," she said. "They're constantly snuggling."
Goats of Anarchy
In fact, Lauricella believes that Pippa's friendship has helped Polly's anxiety issues go away. "I feel like she has been a nurturer to Pippa, like a mother," Lauricella said. "Pippa just nuzzles her and cuddles her."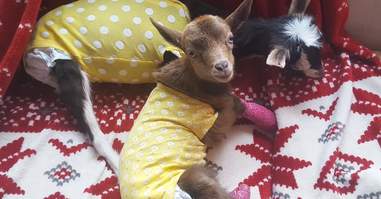 Goats of Anarchy