Orphaned Horse Finds Love In An Unlikely Adoptive Mother
<p> <a href="https://www.facebook.com/emily.priest.9/posts/10156021316060603" target="_blank">Facebook/Emily Welsh</a> </p>
Love has a wonderful way of making even the most insurmountable of differences suddenly appear petty or obsolete - just ask Legacy the orphaned horse and her adoptive mother, a goat named Buttercup.
Within the first few hours of the young Clydesdales's life, she was thrown a tragic obstacle. A day after her birth last April, Legacy's mother passed away on the farm where she lived in Canada, putting the fragile newborn foal's own life at risk as well. The loss was also devastating to the horse's caretaker, Emily Welsh, who knew something needed to be done for the suddenly orphaned offspring.
"My life had turned upside down," Welsh wrote on Facebook. "I didn't even like the idea of being in the barn, but we now had this little filly that was alone and needed help."
That's about the time when Buttercup stepped in.
Welsh had initially tried to find a nursing mare in her area who could take on parental duties for the orphaned horse, but sadly there were none to be found. Since finding a suitable food source was of the upmost importance, the farmer decided to get a dairy goat so they could at least have milk with which to bottle feed Legacy - but the goat they found turned out to be so much more.
Instead of just being a milk supply, the new goat became Legacy's mother.
"We had built a ramp just so it would be easier for us to milk her out, as well in a wild chance we could get Legacy to suck," Welsh wrote on Facebook. "Our wildest dreams came true and Legacy latched on to Buttercup the goat."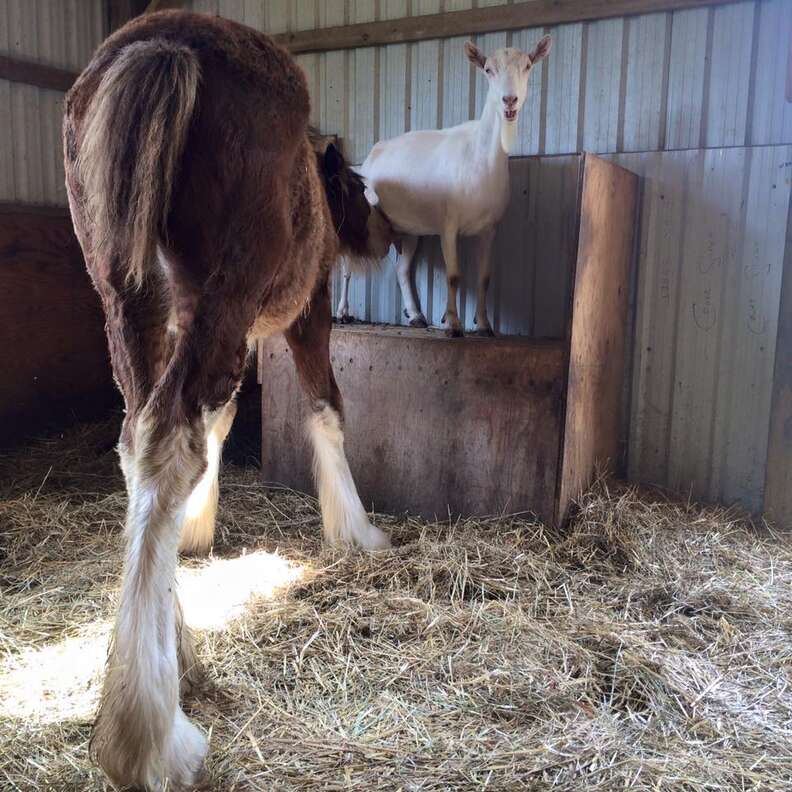 Amazingly, despite growing up on a dairy goat farm where she was primarily valued for the milk she produced, it soon became abundantly clear that Buttercup possessed an even greater quality - the ability to nourish the lonely little horse's soul.
That has made all the difference.
"Buttercup has taken over the mom role as well as us with bottles. They have become inseparable!!" wrote Welsh. "Buttercup protects her, loves her and plays with her. Legacy is now 5 months old and I was scared she wouldn't make it past the first week. We owe her life to Buttercup and thank her everyday."
Given a chance to express her maternal instincts, the humble goat has shown there's more to life on a farm than the sights, sounds and smells of the animals who live on one - there is richness, beauty, love and affection capable of binding even the most unlikely of pairs. And that's a lesson Buttercup has taught Welsh and her horse Legacy oh so well:
"She was 1 out of 400 diary goats and now is 1 in a million to us."