When Piper Wood saw the 4-month-old goat inside the tiny concrete kennel, her heart broke, and she knew she had to help.
"She was so depressed in the kennel," Wood, the founder of Hand in Paw, a rescue organization in Los Angeles, told The Dodo. "She was there for two days, and she was crying all the time."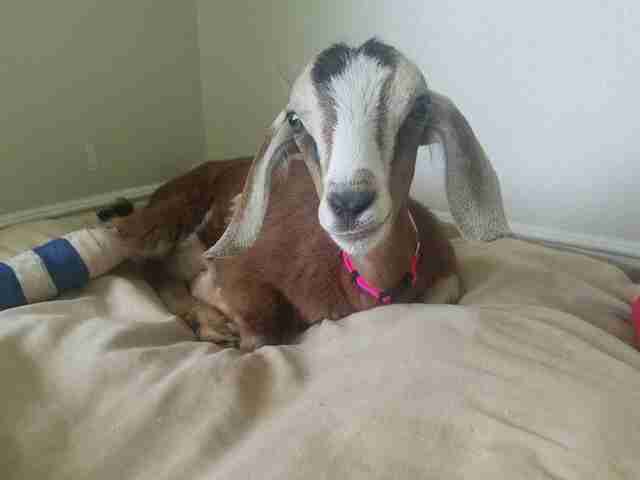 Wood first learned about the goat, whom she named Clementine, from the manager at Duarte Azusa Animal Hospital. A few days ago, someone had brought Clementine into the clinic after she broke her leg.
"She [former owner] wanted a goat, but lived in a tiny apartment," Wood said. "I guess her boyfriend bought her a goat, but they had nowhere to keep her."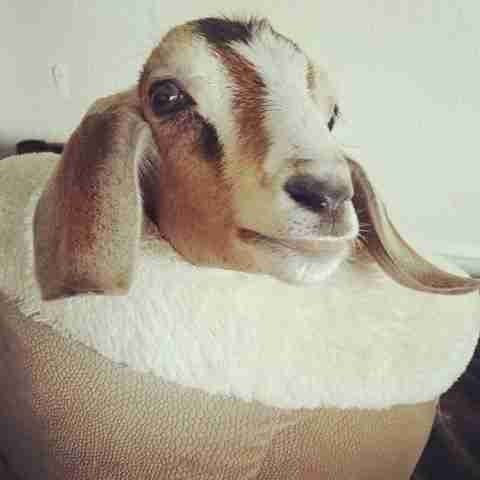 The owner's boyfriend worked at an auto body shop, according to Wood, so the couple decided to keep the goat there.
But Clementine ended up breaking her leg at the auto body shop.
"She was jumping around, and she got her leg caught in something and got a really bad fracture in her back leg," Wood said. "Her back leg just snapped."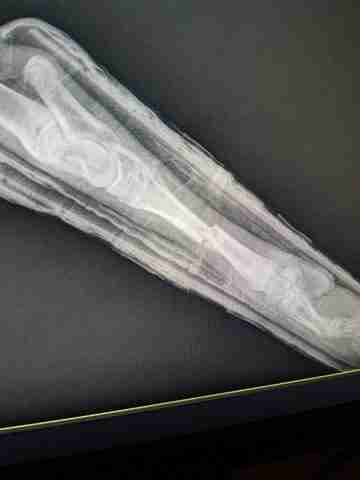 "There were car parts and metal everywhere," Wood said. "There was no grass. It was just a really horrible place for a goat."
The owners had also dehorned the goat, according to Wood, which involves placing a hot iron against a baby goat's sensitive horn buds to stop her horns from growing.
One of the workers took Clementine to the vet clinic, where she received emergency treatment.
"She couldn't use her leg at all," Donna Menzemer, the manager at Duarte Azusa Animal Hospital, told The Dodo. "She had to have some mild sedation and X-rays and get a splint. Then she had to have days of antibiotic injections and oral antibiotics as well."
When the bill came out to be over $500, the owners didn't want to pay - instead, they simply asked for the goat back, according to Menzemer. So the vet clinic had no choice but to keep the goat until the bill was paid. If the owners did not pay the bill and pick up the goat within 14 days, the Department of Animal Services would consider the goat officially abandoned.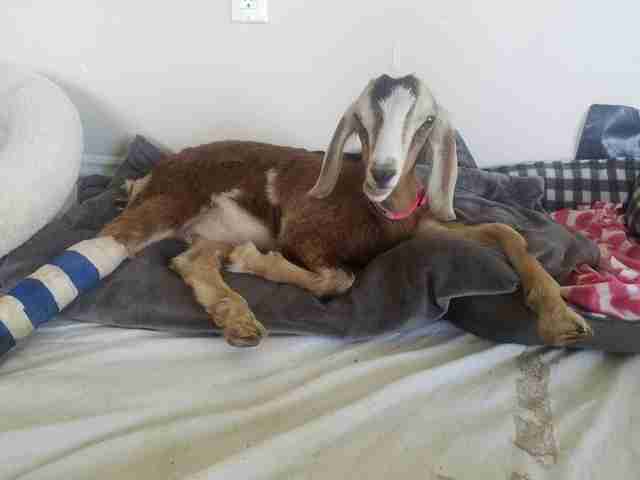 The problem was, the vet clinic didn't have a proper enclosure for a goat, so they had to keep Clementine inside a dog kennel, and get hay delivered so Clementine could eat.
But Clementine seemed miserable inside her kennel.
"She loved people, so she was crying because she wanted us all the time," Menzemer said. "I felt so bad for her."
Seeing how sad Clementine was in her kennel, Wood struck a deal with the vet - let Clementine stay at her acreage in Pasadena, along with 15 rescue dogs. If the owners eventually paid within the 14-day period she'd relinquish the goat. If they didn't, Wood would adopt Clementine herself.
The moment Clementine arrived at Wood's place, Wood could see that she was so much happier.
"She instantly bonded with all of my dogs," Wood said. "She absolutely loved the grass, and was running around - she had a cast on, so she was hobbling. She sleeps in the dogs' beds. She shares bowls with them. She's just become a total part of the pack."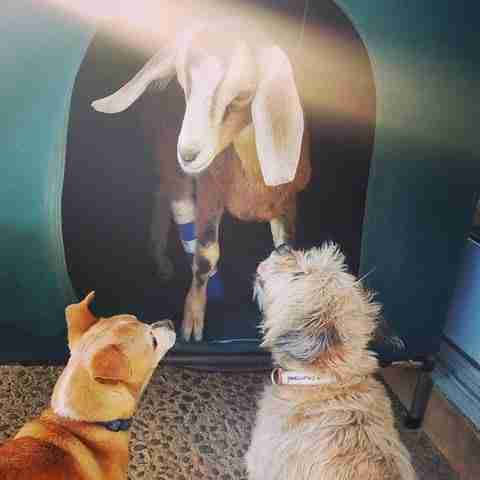 "She loves to wrestle with the dogs," Wood added. "She particularly loves our poodle, Stewart. They butt heads together all the time."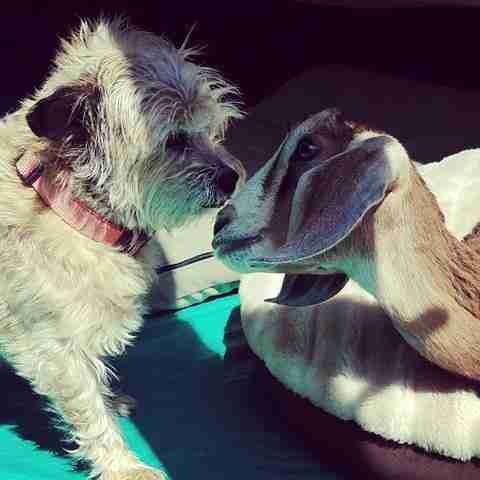 Wood also became deeply attached to Clementine - so much so, she was terrified that the owner would find a way to take her back.
"I literally called the vet 10 times a day asking if [the owner] called," Wood said.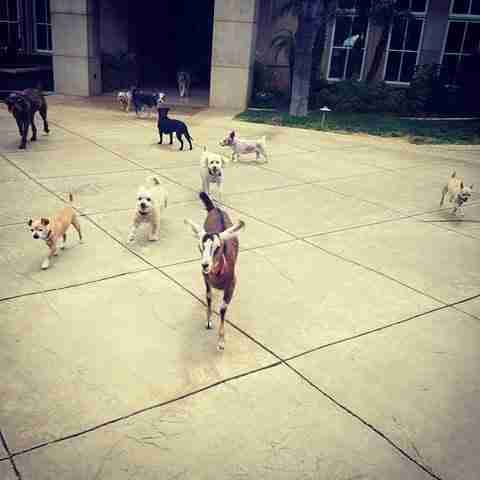 When the owner didn't return to the vet to pay her bill or to pick up Clementine, the situation was considered owner abandonment, and Wood was able to officially adopt Clementine.
Wood was beyond delighted.
"This is like every Christmas wish come true," Wood said. "I've been talking about getting a goat all my life, and the moment I got that call, I dropped everything to go see her, and I just knew she was the right one, but I never thought it would be a reality."
However, Clementine's leg isn't fully recovered yet. After getting X-rays at her last vet visit, the vet saw that the bones aren't healing very well, and that she might need steel plates put in. But whatever needs to happen, Wood will be at Clementine's side.
"She's part of the family now," Wood said. "I just love her."
To help Hand in Paw rescue more animals like Clementine, make a donation.