Giving Senior Dogs a Second Chance - How We Found Our Family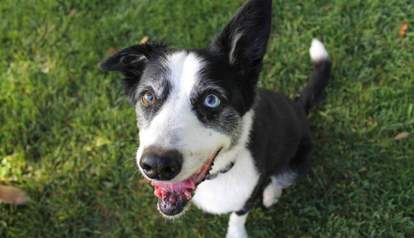 <p> Suzanne Maia Lee </p>
Shortly after moving from New Jersey to California last July, I was at the farmers' market wandering the many tables of local organizations. It was "Nonprofits Day," and many organizations were out tabling for volunteers and donations. I've never been able to resist a puppy when I see one, and Lulu's sweet face was just calling out to me from across the way. This beautiful eight year old Newfoundland-Sharpei mix laid in the shade quietly with a green bandana around her neck next to this table filled with pictures of happy dogs and signs saying "Adopt Me."
Lulu
Lulu
When I first began volunteering for Lily's Legacy Senior Dog Sanctuary, Lulu's body was still patchy, missing large amounts of hair all over. She had medicated wipes and ointments in her eyes every day, and was on a strict diet, but her demeanor was happy as ever. When she had first come to Lily's Legacy, her stomach was like leather, just completely hairless. Over the months, I watched as she went from completely uninterested in walks or exercising to waiting by the door for her chance to get outside and explore. I watched as she began to regrow hair and as her eyes slowly got better. 5 months later, I watched as her new mom took her to her new forever home.
Lulu had lost out on many potential adopters because she was a senior large breed dog; her food and medicine were not cheap and she still needed someone to give her the wipes and ointments every day to keep her in the healthy shape she had grown into since being taken in at the sanctuary. Senior large breed dogs are perceived to be the most unadoptable kind of dog. Large breed dogs require more financial investment than smaller breed dogs; older dogs don't have as much play in them; a puppy will be around for longer; the reasons go on.
Greta, Precious, Bear
Greta, Precious, Bear
Lily's Legacy Senior Dog Sanctuary is a nonprofit organization located in Northern California that is dedicated to helping senior large breed dogs. Lily's Legacy was founded by executive director Alice Mayn in memory of Lily, a 14-year-old golden retriever she had fostered. Lily was found wandering the streets of Santa Rosa and brought to the Sonoma County Animal Shelter in November 2007. She had a host of health problems, including a very bad nasal infection and a tumor on her eyelid. Over the next four months, Lily and Alice together battled and survived the tumor removal, the infection, canine bloat, and even a seizure. When she passed away after developing a blood disorder in February 2008, Alice saw the sanctuary as a mission from Lily; a place where many of the senior dogs who are lost, abandoned, or otherwise find themselves homeless, will have a safe haven in which to live out their days, or stay until a loving adoptive home is found, and where they will receive the love and care they so richly deserve.
Some of our dogs are owner-surrenders; others are last-minute rescues from shelters who don't have room and don't think the dog is adoptable - we take in these dogs before they are put down by the shelter. Aside from daily care and TLC, Lily's Legacy provides regular veterinary care and anything else needed to nurse a dog back into health.
Cruz, the border collie in the photo, was also at the sanctuary when I started volunteering at Lily's Legacy. He was friendly, playful, and so smart. The volunteers were warned not to pull him or grab him by the collar, as he had issues with people touching his neck. His last owner had also been warned of this, but neglected to keep this in mind when handling him, and ended up returning him after Cruz got tired of it. One too many times and Cruz scraped his arm a little bit. But we didn't mind. We were always mindful of Cruz's reactions to us and his interactions with us.

Cruz and some of his many stuffed toys
Cruz and some of his many stuffed toys
Cruz was the dog that convinced my husband to get allergy shots, but we were not able to adopt him because our lease did not allow pets. When we went back to New Jersey for Christmas, Cruz was adopted again. We were sad we did not get to say goodbye to him, but things happen for a reason and we were happy for Cruz. When Cruz's adopter passed away this spring, we jumped at the chance to adopt him ourselves. We moved to a bigger house, but by this point, Cruz had two more almost-bite run-ins - all 3 were circumstances because someone was trying to pull him by the collar off a bed or couch - and was about to be put down.
We simply could not let this happen. We asked Lily's Legacy to put a hold on everything while we convinced them and our new landlord to let us adopt Cruz. One of the stipulations of the adoption was that we work with him and a trainer on his issues. To this day, Cruz has been nothing but amazing with us. We never yell at him for barking or growling, because that's how he tells us he's uncomfortable or scared. And we never yell at him for playing with us or giving us kisses, because that's how he tells us he loves us and trusts us. He just doesn't get couch or bed privileges.
Cruz has become such a big part of our family; we can't imagine our lives without him. He is the sweetest dog and is always ready to cuddle or play ball with us. Cruz fit into our hearts like a missing puzzle piece. More than that, the Lily's Legacy group has become the family and community we needed after moving 3000 miles across the country. They provided the support and courage for us to step up to the plate and take Cruz in. We are truly thankful that we have found such a wonderful organization that cares so much and inspires us to be the people our dog thinks we are.My husband, Cruz, and I on a hike in the Sierra Nevada foothills (and some friends in the back!)
My husband, Cruz, and I on a hike in the Sierra Nevada foothills (and some friends in the back!)