Little Girl Teaches Dog Sign Language So They'll Never Be Alone
A little girl and an abandoned dog were both having trouble communicating with the world around them - until they found each other.
Baxter was struggling with life in a shelter. He was transferred to Animal Humane New Mexico from an overcrowded rural shelter in August, when he was only 10 months old. He had to be carried out of the shelter because the noise and commotion were all too much for him.
Animal Humane New Mexico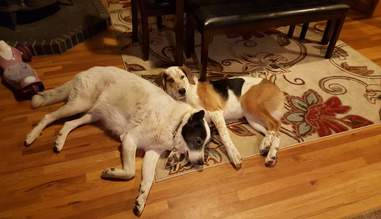 Animal Humane New Mexico
"Baxter was completely non-responsive, as he had learned to shut down rather than deal with the stimulations that were depleting his personality," Sam Blankenship, the adoptions director at Animal Humane New Mexico, told The Dodo.
Baxter just needed someone who understood him - and a little girl named Neeva was looking for someone to understand her, too.
Animal Humane New Mexico
Animal Humane New Mexico
Neeva's family came to Animal Humane New Mexico looking for a dog who would be patient and understanding enough to fit in with Neeva's daily life. "Neeva was born Deaf, so she uses American Sign Language to communicate with Baxter, and I swear he understands her perfectly," Chelsea Goff, Neeva's mother, shared with The Dodo. "He is so patient with her as she tucks him into various 'beds' and tries to read him stories."
Animal Humane New Mexico
Animal Humane New Mexico
After they adopted Baxter, Neeva set about the task of teaching him sign language. Baxter knows how to sit, stay and go all through sign language, and Neeva even gave him his very own sign name. Baxter has helped Neeva become more confident with her signing, and in general. "He is such a sweet, gentle, and friendly pup and we are having so much fun with him in our 'pack'," Goff said.
KRQE News 13
KRQE News 13
Now, the pair do absolutely everything together. Baxter was just the special dog that Neeva needed, and Neeva in turn has done wonders for Baxter.
"It's nice to see him [Baxter] back up, active and confident," Blankenship said.
Check out the full coverage on Neeva and Baxter's story below: