Girl Scouts Demand Sustainable Palm Oil For Cookies To Save Orangutans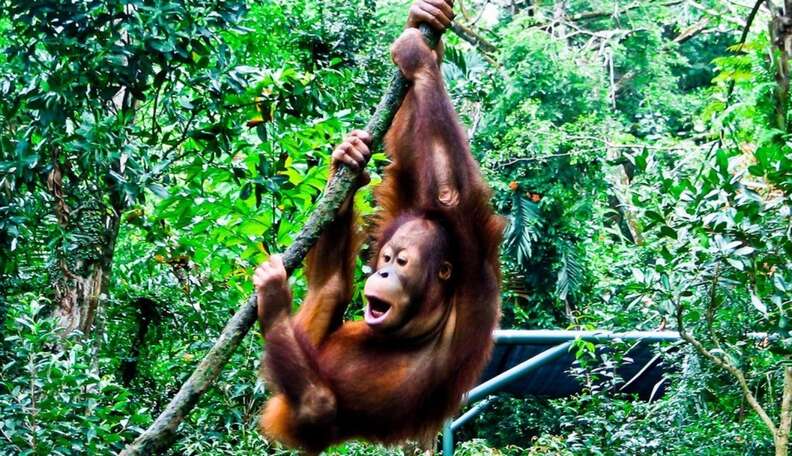 Kellogg, the company that produces Girl Scout cookies, announcedthat it will now use deforestation-free palm oil, thanks to the demands of two teenage Girl Scouts who challenged the organization's use of unsustainably-sourced palm oil which was used in Girl Scout Cookies. Palm oil, which is an ingredient in many prepackaged food items like cookies and crackers, is one of the largest drivers of deforestation in Southeast Asia -- essential habitat for critically endangered species, especially Sumatran orangutans and tigers.
The announcement comes after Girl Scouts Rhiannon Tomtishen and Madison Vorva began a movement to force Kellogg to find more sustainable sources, creating a petition, letter-writing drive and contacted Girl Scouts across the nation to speak out, too. Here's a video of Tomtishen and Vorva explaining their project:
A statement released by Kellogg reads:
Kellogg Company announced today a global commitment to work with palm oil suppliers to source fully traceable palm oil, produced in a manner that's environmentally responsible, socially beneficial, and economically viable. To do so, Kellogg is working through its supply chain - from suppliers to processors to growers - to ensure that palm oil it uses is sourced from plantations that uphold the company's commitment to protect forests and peat lands, as well as human and community rights.
Conservationists have applauded the announcement, and hope that it will lead the way for other companies to do the same.
"We hope that the commitments Kellogg's outlined soon become industry requirements," said Sharon Smith, Campaign Manager with UCS's Tropical Forest & Climate Initiative. "We'd like to see all palm oil producers making oils with these values and companies walk away from suppliers that cannot prove their palm oil is deforestation-free, peat-free and conflict-free."