Police Seize 'Pit Bull' Who Helps Little Girl With Autism
When police officers came for her dog, 7-year-old Maddison Armer refused to give her up.
The girl, who has autism, locked herself in the bathroom of her family home in Lancashire, England - along with her best friend, a dog named Darla.
Jenny Armer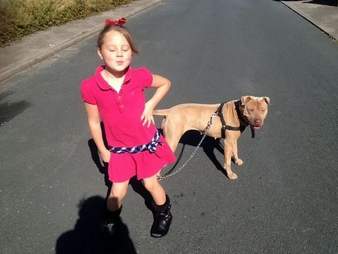 Jenny Armer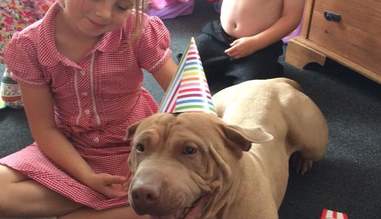 Jenny Armer
Darla, her family maintains, is an incredibly gentle cross between a shar-pei and a Staffordshire bull terrier.
"Darla has never bit, nipped or even growled at anyone or anything," Maddison's mother, Jenny Armer notes in a Facebook post. "Her nature is very soft and loving. She has been taken for the fact that she looks like a banned breed."
Jenny Armer
Lancashire Constabulary, the agency responsible for Darla's incarceration, did not immediately respond to The Dodo's requests for comment.
The Armer family's options are limited.
"They told me I could sign a disclaimer to have her put to sleep or I could fight the decision in the court," Jenny told the Mirror.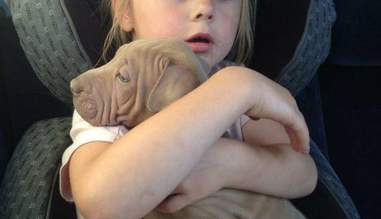 Jenny Armer
"I have to fight it because she is Maddison's best friend. She helps keep her calm. If Maddison is having problems, Darla comes and gets me."
After a period of observation and tests, authorities may also opt to put the 3-year-old dog on an exemption list.
A dog named Hank was given a similar reprieve last week, after he was seized from his family in Belfast, Northern Ireland - but not before an online petition garnered 300,000 signatures around the world.
Police seized Hank from his home while his family was out.

| Leonard Collins
Sadly, not every dog is so lucky.
But if Hank, the dog whose plea was heard around the world, can find his way back to his family, public outcry can help reunite this gentle giant with the little girl she's known all her life.
Jenny Armer