Little Girl Draws Pictures Of Blind Cat Until Her Parents Let Her Adopt Her
"It was just an instant love connection."
As soon as 8-year-old Britta Bergeson saw the photo of the cat, she knew she wanted her.
The cat, a 1 year old named Justice, was brought to the Arizona Humane Society (AHS) last month as a stray.
"Somebody saw her, and our field department went out and picked her up," Vanessa Crues, adoptions supervisor at AHS, told The Dodo. "When she came to us, she had trauma to both of her eyes."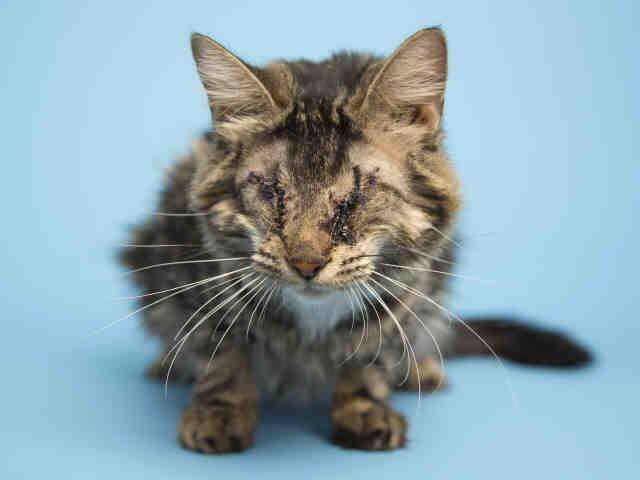 Justice's eyes were so bad, both of them were removed, leaving her completely blind. But this did nothing to deter Britta's desire for adopting her.
"She originally saw her on the [AHS] website, and she was telling her whole family about her, and how that was the cat she wanted," Crues said. "She had a soft spot in her heart for this cat."
To help convince her parents to allow her to adopt Justice, Britta drew pictures - one image showed Justice purring in Britta's arms; another showed Britta rubbing noses with Justice while saying, "I love you."
"Her parents said she couldn't stop talking about her," Crues said. "I think when she saw [Justice] and saw that she needed extra love and care, she wanted to provide that for her. She thought, 'I can take good care of her, and give her a good home and baby her.'"
When Britta eventually visited the shelter two weeks ago, there was only one cat she wanted to meet - Justice.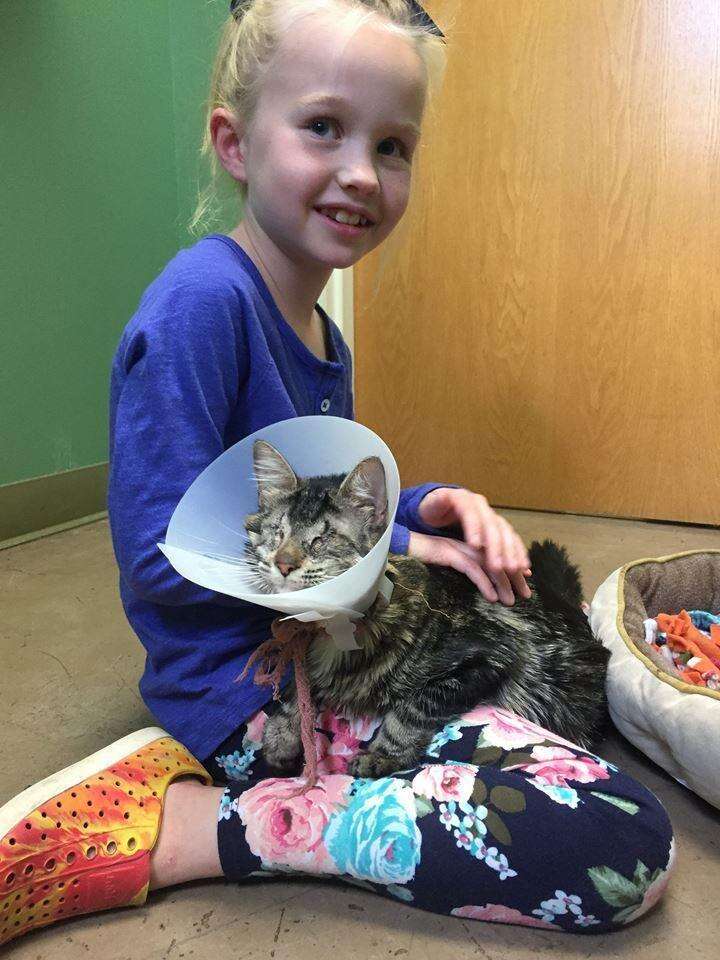 "It was just an instant love connection," Crues said. "She got pretty emotional, and she was crying happy tears, like 'Oh my gosh, she's everything I thought she would be.'"
The shelter staff put Justice on Britta's lap, and Justice snuggled right up to her.
"Cats can sometimes be a little cautious around people, but she just warmed up immediately," Crues said. "She let her pet her and was rolling around, and just wanted all the love. It worked out well."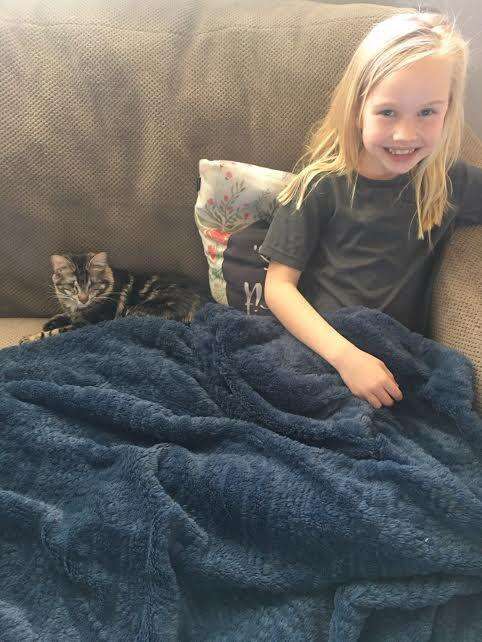 Britta took Justice home that same day, and renamed her Lucky - for the best reason.
"We were in the car headed home and she mentioned renaming her Lucky," Shay Bergeson, Britta's mom, told The Dodo. "Then she said, 'We are lucky to have her and she is lucky to have us!'"
Britta is thrilled to have Lucky in her life, and Lucky is quickly settling into her new home.
"She is doing way better than I would have thought," Shay said. "The first two days she stayed in Britta's room in her cat bed, but by the third day she started to venture out and she knows the house so well! She is the best, most sweet cat we have ever owned."
"Lucky loves to follow us around the house and especially loves being around our feet as we do our normal morning routines," Shay said. "She jumps up on the couches to be with us, and sometimes we will even find her on our beds just chilling. She will play with toys or anything small on the ground. She even will pick up Britta's socks and truck them around house."
Crues and the other staff at the shelter are overjoyed that Lucky found the perfect home.
"[Lucky] got a loving family with the support of a grandpa and aunts and uncles who are all invested in making sure she has the easiest transition into her new home," Crues said. "And that's what our goal is for every animal who comes through out door."
If you're interested in adopting a dog or cat yourself, the Arizona Humane Society has plenty of animals in need of homes. Another way to help is to make a donation. You can also follow Lucky on Instagram.