Giraffe's Needless Death Exposes Zoos' "Elaborate Fraud"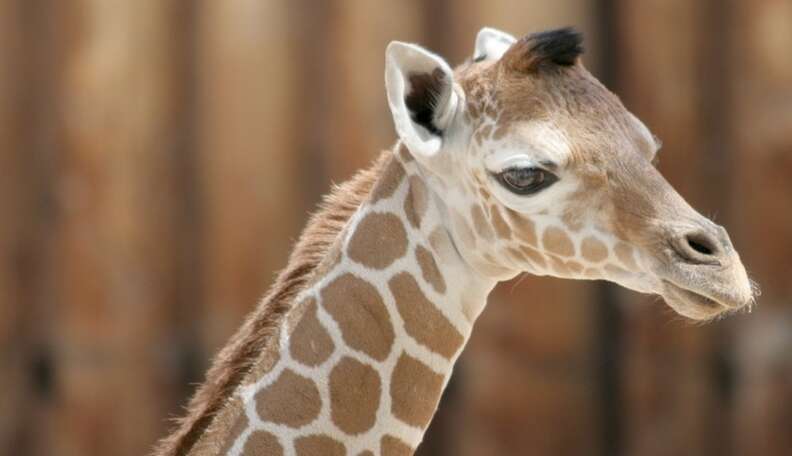 The Copenhagen Zoo's decision to destroy a healthy, young giraffe named Marius has triggered international outrage as a cruel and needless killing. But Andrew Tyler, director of the organization Animal Aid, suspects that the widely-covered giraffe death could actually prove to be a positive -- shedding light on a common practice at zoos that usually happens behind closed doors.
In an op-ed appearing in the UK's Mirror, Tyler says that euthanizing healthy animals is "business as usual" for zoos, noting that dozens of exotic animals are killed at the Danish facility every year.
Officials at the zoo have defended Marius's death as a way of ensuring a "sound and healthy population of giraffes" as part of an international breeding program, stating that the 18-month-old giraffe was not "genetically valuable" for this purpose. But the decision to kill "surplus" animals, says Tyler, is not about about conservation -- it's about economics.
"The doe-eyed newborn has lots of star potential and earning capacity," writes Tyler.
"But once they get to a certain age and are deemed to be surplus to requirements then economics often dictate they be disposed of -- as was the case with Marius."
While many zoos tout their efforts to breed animals in captivity is a pure-hearted attempt at species conservation, Tyler calls such claims an "elaborate fraud" used to justify what amounts to "galleries of captive beasts; freak shows for a gawping, shrieking public."
Like most animals held at zoos, giraffes are not in danger of dying out for want of steady reproduction -- yet Marius's lack of value as a breeder was deemed more important than his existence itself. This commoditization of zoo animals, says Tyler, actually undermines the public's perception of wildlife conservation.
Ultimately, as it becomes clearer that needless destruction of a healthy animal at the Copenhagen is part of common practice in captivity centers around the world -- outrage shouldn't be directed at one zoo in particular, Tyler asserts, but the zoo industry at large.
"Anyone upset by what was done to Marius should resolve never again to visit a zoo, marine animal establishment, safari park or any other prettily-named animal prison."
ACTION ALERT: Zoos and Aquariums
Hundreds of millions of people visit zoos every year, despite increasing public anxiety about animals in captivity. If you want to make sure you're at least visiting a zoo that makes efforts to be humane, make sure it is on the list of U.S. facilities accredited by the Association of Zoos and Aquariums; internationally accredited facilities are listed here by the World Association of Zoos and Aquariums. If you want to see whether a facility has any recent USDA violations, you can search this database. You can report a zoo or aquarium to the USDA here. And if you want to become active against having animals in captivity, Peta and Born Free USA offer places to start.