Drugged Baby Ape Rescued From Life In Laundry Basket
When wildlife officials raided a house in Thailand last week, they found something worse than they ever expected: a young ape living in a laundry basket.
A photo shows the baby gibbon tucked into a small orange laundry basket, his arms curled into his body as he tries to take up as little room as possible. A dirty fan cover forms a makeshift cage above the basket, forcing him to crouch down so he can fit inside his cruel home.
Wildlife Friends Foundation Thailand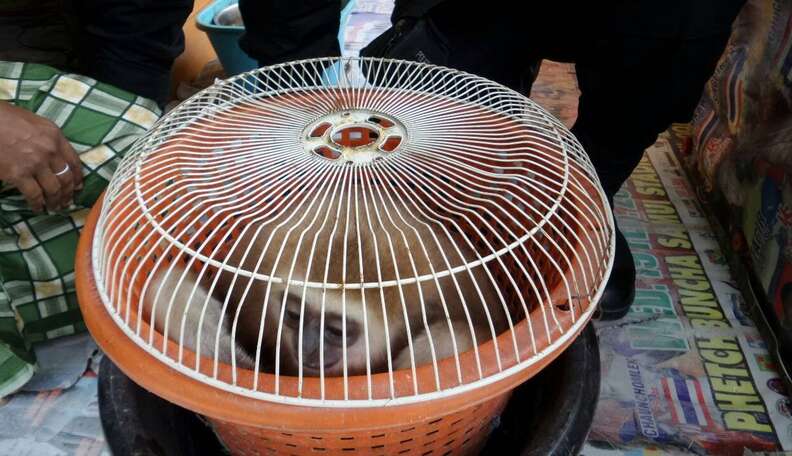 Only a sliver of his face is visible, but it speaks volumes.
Wildlife Friends Foundation Thailand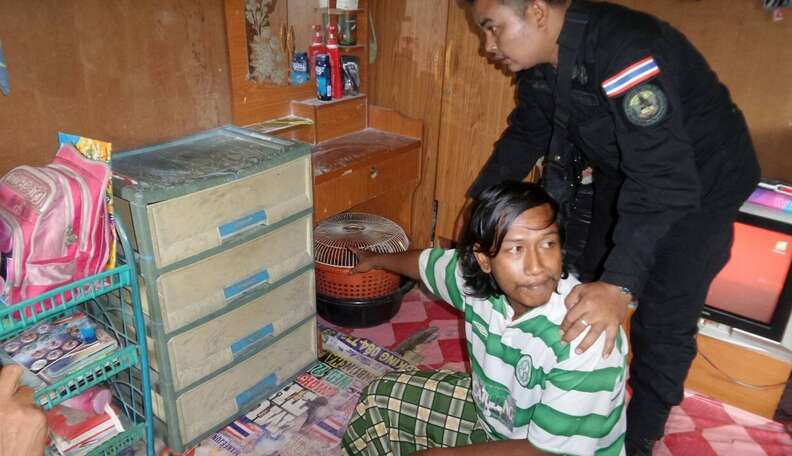 The unnamed ape and several others were being kept by a group of men who would illegally peddle them out to tourists, asking for money in exchange for petting the apes and taking pictures with them. Few tourists knew that during non-working hours, the motherless apes were kept in conditions like these.
Wildlife Friends Foundation Thailand
A total of seven gibbons were found during the Oct. 14 raid and confiscated by Thailand's Department of National Parks (DNP). They were scattered throughout the property, inside and out - and all kept in an assortment of small dog and bird cages.
Wildlife Friends Foundation Thailand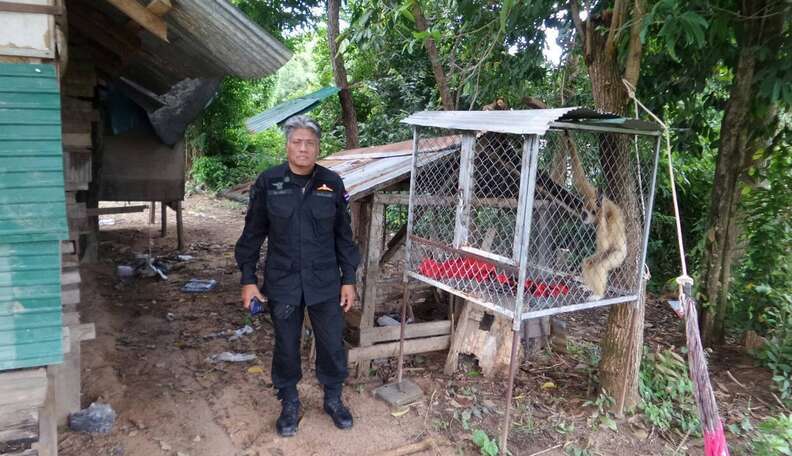 None of the cages appeared to have food or water.
Wildlife Friends Foundation Thailand
The raid was prompted by an undercover investigation conducted by Wildlife Friends Foundation Thailand, which was tipped off about a group of men hawking apes at local tourist hotspots. Footage of the investigation shows young gibbons being passed around from tourist to tourist at restaurants, beaches and even night clubs.
Some of the the unfortunate apes are dressed in clothes.
At several points, the apes seem to be impaired - in one touching scene a young gibbon clings to a man's head, barely conscious as he struggles to keep his eyes open. The gibbons are often drugged day and night to make them easier to handle, according to WFFT.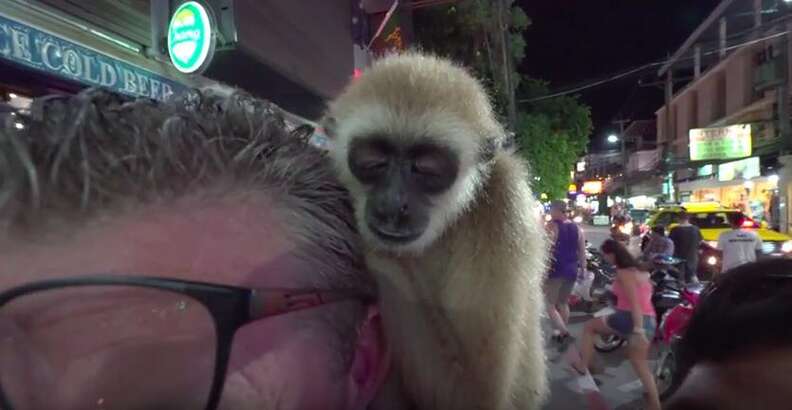 Though renting out gibbons is illegal in Thailand, the trade still thrives because tourists insist on handing over a few dollars to get a photo with an exotic animal. Most people don't know about the abuse the animals experience behind the scenes - others just don't care.
Unfortunately, it's rare that the people behind these abuses are prosecuted or punished. One of the men caught in this raid has previously been arrested three times, according to WFFT. The group is hoping that he'll be held responsible this time.
Wildlife Friends Foundation Thailand
Yet whether or not their abusers are punished, the lucky apes from the recent raid have finally broken free. They are being held at a government wildlife facility, where they'll hopefully receive the care they need - and maybe even rehabilitation, if they haven't been too damaged by their time in captivity.
Wildlife Friends Foundation Thailand
There are thousands of animals just like these around the world, many of them clustered in tourist hotspots. The best thing you can do is avoid attractions that feature photos or "encounters" with exotic animals - they're almost always linked to cruelty. You can read more about the dangers of animal attractions here and here.
You can also make a donation to WFFT to help them continue the fight against this cruel practice, and care for the many animals they rescue and release each year.