It was a bath not only for the ages, but for the very, very aged.
On March 19, Jonathan the giant tortoise experienced a bath for the first time, at least in recorded history, at the ripe old age of 184.
A resident of St. Helena Island in the South Atlantic, Jonathan happens to be the oldest known animal on Earth.
His scrub down, administered by veterinarian Joe Hollins and posted on YouTube this week, lasted only about an hour. Just a bucket of soapy water, a soft brush, a loofah and one very indifferent tortoise.
But you can certainly hear that sponge scrubbing away the ages. And what lies beneath those calcified layers of grime? That ancient stockpile of dirt?
Just a tortoise named Jonathan. A somewhat cleaner 184-year-old tortoise.
Giant tortoises are famed for their epic life spans. One named Adwaitya reached 255 before her death at the Calcutta Zoo in 2012. On average, they live around 150 years.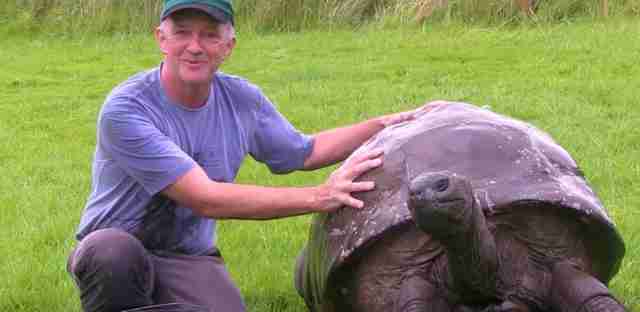 But for Jonathan, who, as The Telegraph notes, has been alive during the reign of no less than eight British monarchs, it may take a little more than soap and water to be amazed.
Watch the full video below: