People Are Knitting Giant Sweaters To Keep Rescued Elephants Cozy
It makes them so happy!
Cozy winter garments, made with love, are a bit like hugs that you can wear. And these lucky elephants clearly couldn't be happier to feel that warm embrace from people who took the time to care.
A cold snap is underway across northern India, home to the Wildlife SOS Elephant Conservation and Care Center, and everyone is feeling the chill.
Fortunately, the sanctuary's pachyderm residents, each of whom was rescued from a sad life of exploitation and abuse, aren't having to face the freezing temperatures unprotected.
As it turns out, a group of big-hearted local villagers have been knitting giant sweaters to keep the elephants warm.
Creating custom-knit clothing for the largest land mammals on earth is no quick and easy task - but the volunteers did it with a smile. Wildlife SOS cofounder Kartick Satyanarayan told The Dodo that it took about four weeks for them to make each one.
Still, the knitters didn't skimp on adding colorful flair to the elephants' new duds.
So, far three of the sanctuary's 23 rescued elephants have been gifted sweaters of their own - but if all goes well, the others might be sporting a similar style next year.
In the meantime, these warm (albeit less fashionable) blankets will keep them cozy through the winter.
Making sure these animals are happy and comfortable is what the sanctuary is all about - especially considering all the hardships they've been through.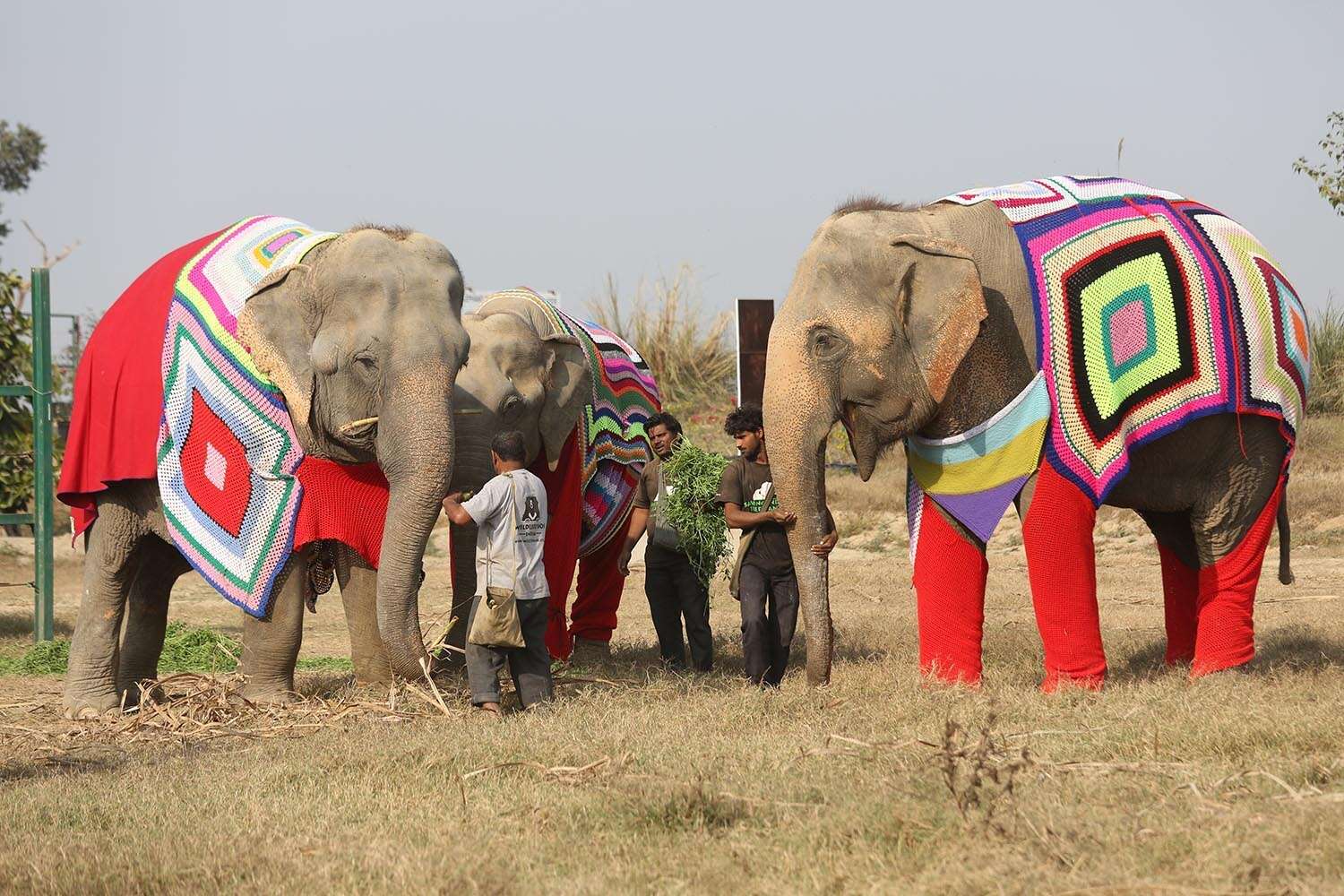 "It is important to keep our elephants protected from the bitter cold during this extreme winter, as they are weak and vulnerable having suffered so much abuse making them susceptible to ailments such as pneumonia," Satyanarayan said in a release. " The cold also aggravates their arthritis which is a common issue that our rescued elephants have to deal with."
We're so glad they're finding relief.
Click here to buy a blanket for an elephant at Wildlife SOS, or follow this link to learn about other ways to help.