Giant Dog Noticed His Boy Wasn't OK Before Anyone Else
Alfie is 5-year-old Mark Cannon's right-hand man. Literally. Whenever the two are together, Alfie, a 182-pound Dogue de Bordeaux, always places himself to the right of Mark.
To the boy's parents, Sharlene and Mark Cannon of South Lanarkshire, United Kingdom, Alfie's behavior seemed unusual, but nothing to be concerned about.
"We always just thought it was a funny coincidence that Alfie would only sit or walk on one side of him," Sharlene told Caters News Agency.
Then, last April, Mark made a trip to the eye doctor and was diagnosed with severe astigmatism in his right eye. The doctor told the Cannons their son's vision had become so blurred he could barely see out of that eye, according to Caters. If he hadn't been diagnosed as soon as he was, he could have lost his eyesight altogether. It was then that the Cannon family realized Alfie's actions were deliberate.
"There was that realization when suddenly it all made sense. Alfie was always there by his right-hand side to guide him," said Sharlene. Alfie noticed the boy's disorder before anybody else in the family, even before young Mark himself.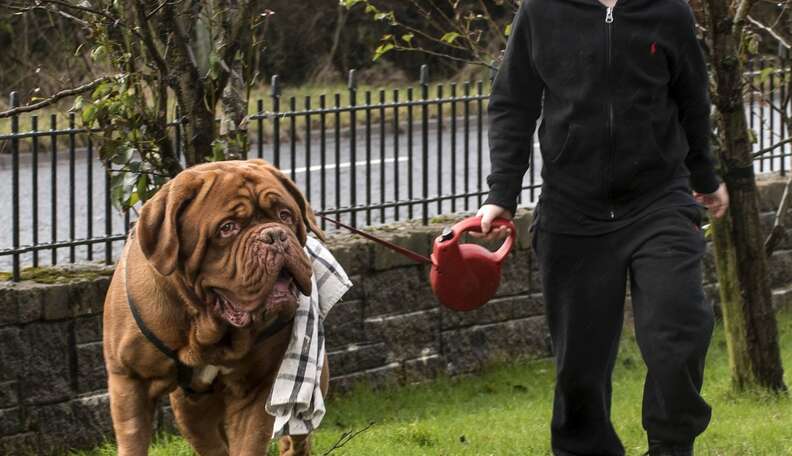 "Mark never mentioned it because he didn't know any different. It's mad when the dog understands what's going on before the humans," Sharlene said.
"You think as parents that you know your children, so for a dog to notice something like that is special. I think Alfie's been on this planet before. There's just something all-knowing about his nature."
Luckily, young Mark's family learned about his visual impairment early enough to prevent the blindness from getting worse. "If it hadn't been caught when it was, he could have gone blind," she explained.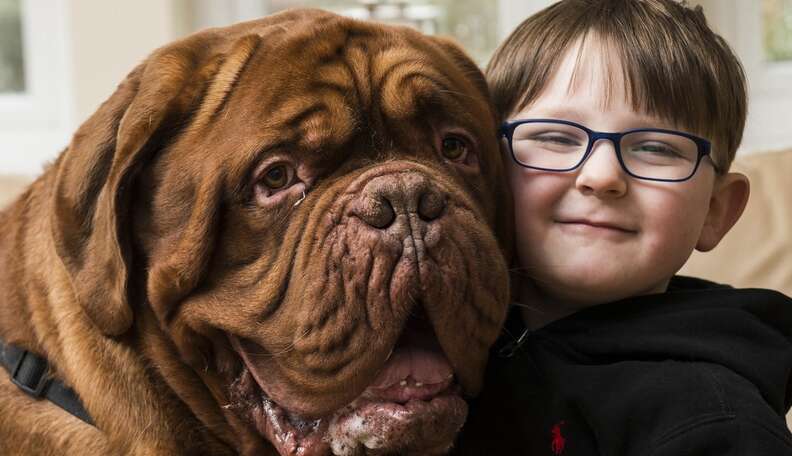 Unbelievably, this isn't the first time Alfie has detected an illness before anyone else. The family noticed that Alfie would often lick the leg of their other dog, Cass.
"We took Cass to the vet in December and she was diagnosed with a tumor in her back leg, exactly where Alfie had been sniffing and licking," said Sharlene. "I think he was trying to lick away the cancer." Unfortunately, Cass has since passed away, and the loss of his dog sister has taken an emotional toll on Alfie.
But Alfie still has a great friend in the house. Young Mark and Alfie do everything together, according to Sharlene.
"They have this unbelievable bond," she said. "Alfie's instinct is incredible. He knows when something is wrong with Mark before we do, even when he's just feeling unwell."
After several months of treatment, young Mark's eyesight has stopped worsening, and he's more able to do the kinds of things other 5-year-old children enjoy, like after-school sports and walking around the block with the dog who's always looking out for him.
It's no secret that dogs can be impressively in tune with their family's needs. Check out the dog who jumped in front of a bus to save his blind owner or the dog who amazingly called 911 during a fire to save her blind owner.