We are extremely excited to announce that, in just a few weeks, on October 4, 2014, Elephants DC will host the 2nd Annual International March for Elephants here in Washington, DC.
Last year's march was a trumpeting success, and the 2014 event will be bigger and better than ever, thanks to the dedication of advocates and our lineup of impressive speakers (to be announced soon!)
This year, we've got some great successes to celebrate, but a lot of work ahead of us still to protect these majestic gentle giants. Our march route concludes at a rally at the White House, where we'll call for ending the ivory trade once and for all, both here at home and around the world. It's a powerful place to make a powerful statement: E is for Elephant, not Extinction.
It's definitely time to get excited. It's definitely time to start getting ready. And it's time to tell everyone you know to join us!
Here are 7 ways you can get involved and get pumped.
1. Plan to Attend!
This one's easy. The best way you can support our march is by showing up!
3. Volunteer at the March or Elsewhere.
There's plenty of opportunities for more hands-on involvement, too. Elephants DC still needs volunteers to help with distributing bottled water during the march, cleaning up after the rally and other tasks. Visit our March Registration page if you're interested and we'll be in touch with you soon.
Other reputable elephant organizations need volunteers, too, whether it's at sister marches in other cities or elsewhere. Elephants need all the help they can get!
4. Dress to Impress for the Elephants!
For our march, we're suggesting that everyone wear black or grey to help us make a striking visual statement of solidarity for the elephants.
If you want to wear something that supports a great cause at the same time, you can order an official iWorry t-shirt for the march, or one of J Crew's limited edition stylish elephant t-shirts (all proceeds go to the David Sheldrick Wildlife Trust).
5. Get Your Signs Ready to Shine.
(Marchers at the 2013 International March for Elephants by the White House. Photo by Phil Mcauliffe).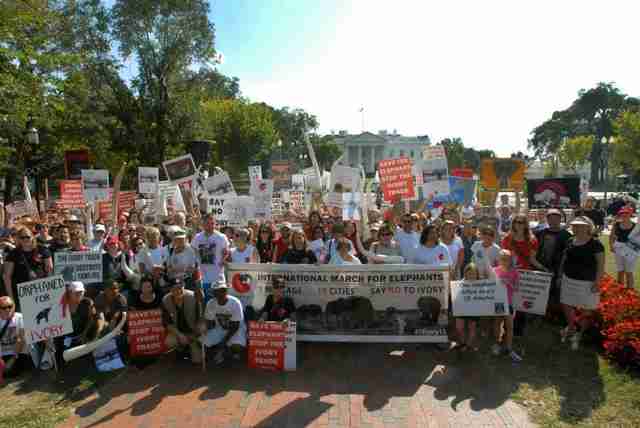 Now's the time to start thinking about what kind of sign you'd like to carry. We'll have specifications and suggestions for you soon.