Get Ready, Get Pumped! Join the 2nd International March for Elephants on October 4 in DC (Events Happening Worldwide)
We are extremely excited to announce that, in just a few weeks, on October 4, 2014, Elephants DC will host the 2nd Annual International March for Elephants here in Washington, DC.
Last year's march was a trumpeting success, and the 2014 event will be bigger and better than ever, thanks to the dedication of advocates and our lineup of impressive speakers (to be announced soon!)
This year, we've got some great successes to celebrate, but a lot of work ahead of us still to protect these majestic gentle giants. Our march route concludes at a rally at the White House, where we'll call for ending the ivory trade once and for all, both here at home and around the world. It's a powerful place to make a powerful statement: E is for Elephant, not Extinction.
It's definitely time to get excited. It's definitely time to start getting ready. And it's time to tell everyone you know to join us!
Here are 7 ways you can get involved and get pumped.
1. Plan to Attend!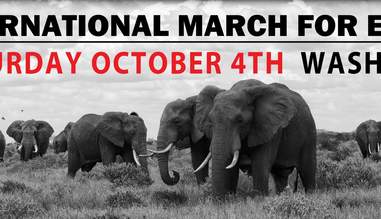 This one's easy. The best way you can support our march is by showing up!
Here's the route: On Saturday, October 4, the march procession will form at the Lincoln Memorial at 11:45 a.m. At noon, we will proceed over the following route: north on Constitution Avenue to 15th Street; north on 15th Street to H Street; and then west on H Street to Lafayette Park for the rally before the White House. On a stage donated by Hargrove Inc., special keynote speakers will deliver powerful remarks highlighting the fight to end the ivory trade to save elephants from extinction.
Familiarize yourself with all the details via our Facebook event page. Mark your calendar. Make any travel arrangements necessary. And if you have questions about how to get anywhere, or other logistics, feel free to post them here or on Facebook – we'll make sure you get where you need to be!
2. Spread the Word.
The more people we have marching, the bigger a statement we make, especially here in our Nation's capital. Let's let it be known loud and clear: the majority of Americans support an ivory sales ban to protect elephants.
So please, invite everyone you know, and then make them invite everyone they know, too! You can share the link to the march on social media, invite all your contacts through our Facebook event page, tweet about the march on Twitter, send emails, post a flier, contact your local newspapers with a 250-word letter to the editor on why you are marching against extinction in 2014 – it all helps!
(Marchers at the 2013 International March for Elephants. Photo by Phil Mcaulliffe.)
3. Volunteer at the March or Elsewhere.
There's plenty of opportunities for more hands-on involvement, too. Elephants DC still needs volunteers to help with distributing bottled water during the march, cleaning up after the rally and other tasks. Visit our March Registration page if you're interested and we'll be in touch with you soon.
Other reputable elephant organizations need volunteers, too, whether it's at sister marches in other cities or elsewhere. Elephants need all the help they can get!
4. Dress to Impress for the Elephants!
For our march, we're suggesting that everyone wear black or grey to help us make a striking visual statement of solidarity for the elephants.
If you want to wear something that supports a great cause at the same time, you can order an official iWorry t-shirt for the march, or one of J Crew's limited edition stylish elephant t-shirts (all proceeds go to the David Sheldrick Wildlife Trust).
5. Get Your Signs Ready to Shine.
(Marchers at the 2013 International March for Elephants by the White House. Photo by Phil Mcauliffe).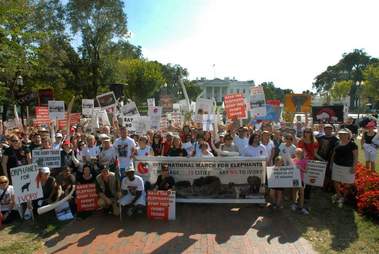 Now's the time to start thinking about what kind of sign you'd like to carry. We'll have specifications and suggestions for you soon.
Messages such as "Save Elephants from Extinction" and "Ban ALL ivory sales" work great. Follow your heart in your messaging -- this is your chance to sing loud, sing proud and unite worldwide to save our world's last elephants!
6. Not Near DC? Join Another City's March!
If you can't join us here in Washington, DC, find another march nearby to join. More than 100+ cities worldwide will be marching on October 4 (World Animal Day) as we make a powerful global rallying cry to protect endangered species. You can find a full list of cities here.
7. Stay Active in Advocating for Elephants, Always.
Whether you're joining our march or not (although we hope you are!), you can still join our cause to save elephants from extinction. First things first: never buy ivory. It's the simplest and most effective way you can ensure you have no part in the brutal illegal poaching industry that's decimating our elephants.
Second, share everything you know about the elephant crisis with everyone you know. Together, we can turn the tide of public opinion worldwide and end the demand.
And finally, call on your Governor to end the ivory trade in your state. New Jersey recently made history as the first state to pass a full ban on ivory and rhino sales, and New York quickly followed with a bill that strengthened its previous ivory policies. It's huge news – but we still have a lot left to go! You can make a difference.