Dogs don't know much about failed human relationships.
But a pit bull named George got a short, sharp lesson in divorce, when it brought an end to everything he held dear.
George was raised by a couple on Long Island, New York.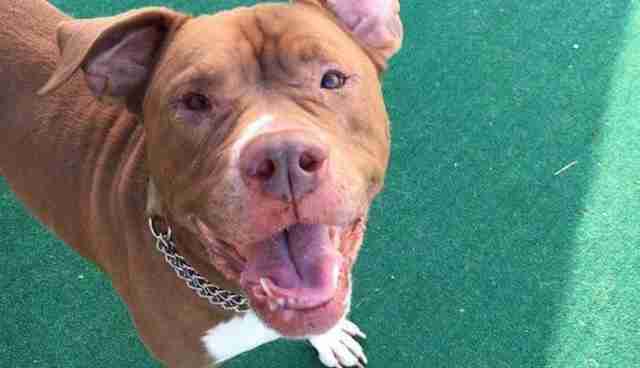 For the first five years of his life, he was The Dog. The Beloved Dog. The primary beneficiary of the snuggles and belly rubs. And toys and walks and ...
... then it ended.
His owners got a divorce. And suddenly George was no one's beloved dog.
After the divorce, his dad found himself unable to care for George. He brought him to a veterinary clinic in Lindenhurst, New York, though it's unclear if he hoped the clinic would euthanize him or find him a home.
Either way, a group of women who volunteer at a boarding facility next door heard about George's plight and decided to step in, paying for his kennel, food and medical care.
"His dad was not in a position to care for him. It was just a series of unfortunate events," one of the women, Donna Monte, tells The Dodo.
Monte and her friends visit him every chance they get.
"He's wonderful," she says. "He's really a great dog. But when he's in the vet's office no one gets to see him."
George has been boarding at the clinic since October 2014.
And he has serious separation issues - the kind that keep him up crying all night. He has been, after all, through a divorce.
George lights up every time someone opens his kennel.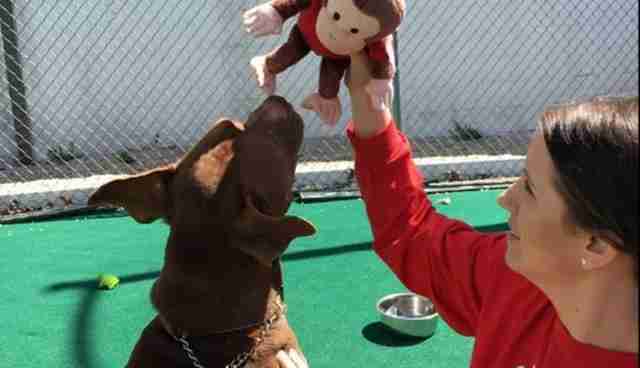 Then he's returned to his kennel and the lights go off again.
George needs a home that will keep the light on for him - a foster home or a forever home, where he can always be around people. But not other dogs. George is used to being the one-and-only dog.
And after more than 500 days in a kennel, he deserves it.
Think you can help?
"We aren't really an established rescue, but want the absolute best home for George," one of his volunteer caretakers, Lyndsey Grosjean, tells The Dodo.
Get in touch with the group of volunteers who are caring for George at homefordogs27@gmail.com.
You can also see more of Gorgeous George, including lots of videos, on his Facebook page.