Update: Finn has found his forever family! Rescuers tell The Dodo it's a perfect match and he's settling in well
A rescuer who knows Finn describes him as "such an easy dog," one of the gentlest she's ever met - but the pit bull is in danger of returning to the fear and stress of a kennel if he doesn't find a new home in the next few days.
Finn was brought into animal control in Bridgewater, Massachusetts, in March, with gashes all across his back that looked suspiciously "like a beating or a whipping," Mary Lou Maraganis, a rescuer with Animal Rescue Konnection, told The Dodo.
Despite the cruelty he must have endured, Finn was unbelievably sweet to the humans who helped save him.
But when he was transferred to a crowded shelter, things took a turn for Finn. The noise and commotion made him anxious, and when it became clear he didn't get along with other dogs or cats, the shelter marked him as aggressive - a virtual death sentence.
Finn was slated for euthanasia, but Maraganis and her organization stepped in to find him a perfect foster home. Luckily he found a great one, where he stayed for months while he waited patiently for a forever family to adopt him.
Finn especially loved the children in his foster home - it turns out that he melts for tiny humans.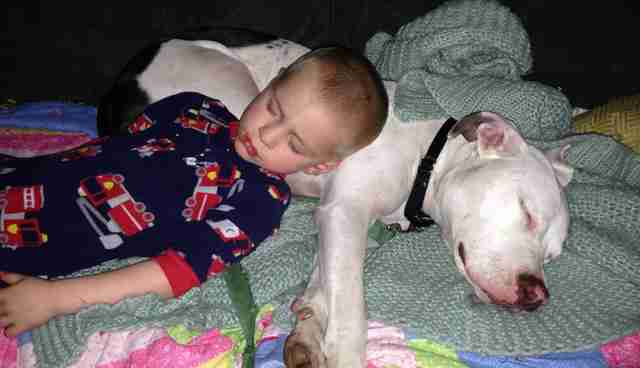 But after months of waiting, his foster family, who hadn't been prepared for a long-term stay, had to say goodbye to Finn, and he was sent to a boarding facility. Surrounded by barking, pacing dogs, Finn "was going downhill quickly because of the stress," Maraganis said.
So she offered to take him in herself, and "his old self came back" as soon as he was safely in a quiet, stable home. But Maraganis can only care for Finn until early November, after which, if he doesn't have a home, he'll have to go back to boarding.
For a sensitive dog like Finn, who can't handle being around other animals, sending him back to a kennel could have devastating results.
This cuddly dog is desperate for a loving family of his own - and everyone who's met him has only great things to say about his winning personality.