My Dog's Tragedy Taught Me To Live In The Moment
It was a steaming Saturday afternoon. I was plucking away on my laptop when I heard the sound of my dog, Gelsemina. The rapid hacking of her little lungs gasping for air reminded me of the time my father had his first seizure. Twenty six years later I was faced with the same reality: my dog was having one. Her legs rigid, yet kicking with speeds I couldn't comprehend, her eyes glossy, her jaw trembling. I jumped out of my seat and caressed her helpless little body, put my finger in her mouth so she doesn't hurt her tongue, and I was in the moment. I figured in her toothless state she couldn't quite bite my finger. As I held that tiny body she withered away into her seizure-ous state - utterly, completely, undeniably gone. I was breathing a slow, steady breath and despite my despair I was calm, summoning all angels and gods and goddesses to pour through my fingertips to help her during the two minutes she was in an altered state.

Photo: Ursula Vari
Then it was all over. After two minutes she came to, lifted her head as if asking "What just happened?"and with that dropped back onto her pillow. After she regained herself, we proceeded to the emergency hospital where she charmed the whole waiting room. The emergency vet, suggested to perhaps wait and see how she does, and in case of a second seizure to come back and receive phenobarbital, an anti-seizure medication. We spent the day together arm in arm, with Charlie - my other rescue - comforting us both. I pretended like nothing happened, except that I read immense amounts of available literature on the nature, causes and natural remedies for seizures.
Photo: Ursula Vari
The night snuck up on us quietly. We all went to bed and I fell asleep praying. At 4:30 a.m. I woke up to that godforsaken hacking sound. Gelsemina was having another seizure, only eight hours after the first one. We rushed back to the hospital received the first dose of phenobarbital, then went back home. Somewhere in the night she had a stroke, and when the Sunday sun kissed my balcony, my beautiful girl could no longer walk and went completely blind. I held her in my arms, her limp body hanging like a vintage rag doll, her little tongue swinging in the hot September air like a lifeless handkerchief. That afternoon I did what my teacher, a shaman from the Peruvian Amazon taught me. I pulled out my chakapa - a bouquet of jungle leaves tied together - and rattled it over her spent body and told her: "If you have to go, you can go, I love you; just tell me what you would like me to do."
"I am not going anywhere," came her indignant answer through the celestial quantum plane. "I am just really tired, you have to let me sleep, and get me off these meds, please," she concluded. I was relieved to get that answer, though it was a slight challenge to fully believe it. How could you not have doubts when your best friend's almost lifeless body is relieving herself at your knees, when it seems like no one is "home," when your firecracker of a dog can no longer walk? Regardless, I prayed, I kissed her, I sang her beautiful mantras, I "OM"-d my head off. And again, I was in the moment.
The next morning I carried her to Dr. Kumar in my arms. We did X-rays, blood tests, fecal tests, urine tests and waited patiently for answers. I was by her side every minute - my boss allowed me to bring her to work. My friends comforted me. You know who your true friends and allies are in times of need. You also realize that help is just a few doors down; my neighbors showed up for me in unexpected ways. Dr. Kumar took her off the medication and concluded that all her tests were negative. I continued to pray for a miracle. I sang her my favorite Icaros, I continued to "OM" my head off and again, I was in the moment.
That afternoon I did break down though. I allowed myself to fall apart in celebration of her greatness. I remembered her "freedom ride" from the shelter, us being kicked out from our home because my ex didn't want her - no surprise he is an ex - our first winter in Chicago, how she frolicked through the snow, her fall in Washington Square Park in NYC, her exuberance after each bath, her poolside manners at Coachella, her falling into numerous pools and her inability to swim, her "doggie yoga" TV debut where she proceeded to lick her genitalia for the whole KTLA segment instead of performing the yoga poses. I thanked her for all the experiences and smiled balling my eyes out. Because of her inability to stand I had to feed her laying down. Too week to chew, I fed her chicken broth through a syringe which she enjoyed so much that she relived herself onto my favorite West Elm rug. I didn't mind. I was happy that she was present and I felt that the angels were with us.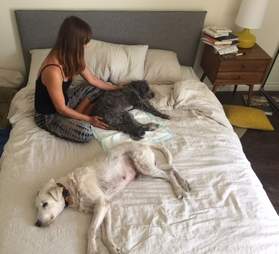 Photo: Ursula Vari
That night gave my hope. She woke me up, pacing to the door and back as if telling me she needed to go outside. She was walking! More like a drunken sailor or like my drunk father looking for his way home. I took her outside in the pouring rain. I was sheltering her little body with mine so she wouldn't get wet. We both got soaked. Yet I didn't mind. In fact I was smiling the whole time, grateful to share that moment with her. I looked at her drenched body and thought how beautiful she was even in her sorrowful state. We had to do the same walk six more times that night; by the end I ran out of dry t-shirts and sweatpants, so I walked in my soaked underwear. The Gods were happy, I am sure, and so was I as she was able to make the decision to not relieve herself in the house. Someone was "home" in her mind. You can find beauty in everything. Her breathing was labored throughout the night but we got a few minutes of sleep by the time we heard the first birds.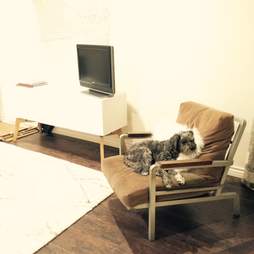 Photo: Ursula Vari
The next night, things had improved. We still had to go outside several times, but without the rain. The crescent moon was witness to this beautiful girl learning to walk again.
On Tuesday, one of my students offered to perform Reiki on her. I also read about the healing power of beef broth. Thus I went to the butcher and asked for soup-bone, and within hours I made the best broth with love. That afternoon she received her soup with a good dose of B-complex and Vitamin C supplements.
When we came back from our short walk, out of nowhere she perked up, rubbed up and down on my bed and jumped up on the sheets - a dog on her last legs a few hours before. I couldn't believe it. I just stood there with my jaw dropped as she pranced on the soft, linen quilt. And again, I was in the moment. The next few days the regimen was three cups of broth three times a day, for her and for my other rescue. They both thoroughly enjoyed the delicacy served with the pieces of bone marrow. French kings didn't have it as good as these two. I continued teaching her how to walk again, and by the time the weekend came she was walking on her own. To top it all she regained some of her vision as I noticed her lifting her paws each time we got to a curb.
Photo: Ursula Vari
I was looking forward to our wondrous walks, each time we hopped a little further - she even started recognizing her friends from the block. Every moment held a breakthrough. She made me fall in love with every minute. The streets were brighter because she was walking on them. That night I got my first kiss in a while. As we laid in bed, she licked my face over and over again. We slept like a pack of angels that night.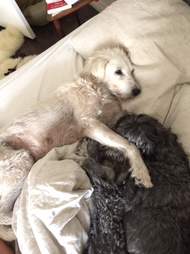 Photo: Ursula Vari
Today is exactly a week later and she is stronger than ever. She even barked to be noticed by Chopper, the dog she has a secret crush on.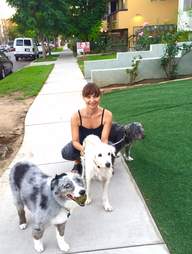 Photo: Ursula Vari
The power of prayer, the power of love, my chakapa, the "OMs," the B complex, the beef broth, my faith, her strength, and Charlie's humor got us to where we are. This beautiful being presented me with a lesson in mindfulness, she showed me the joy of living in the moment - even through hardship. It wasn't Oprah, It wasn't Deepak, it wasn't any of the gurus I know: it was a dog, my dog Gelsemina, my friend, the best I have ever known.
Photo: Ursula Vari
Here is Gelsemina fully recovered:
Photo: Ursula Vari