Fugitive Flamingo Spotted 8 Years After Zoo Escape, With A Companion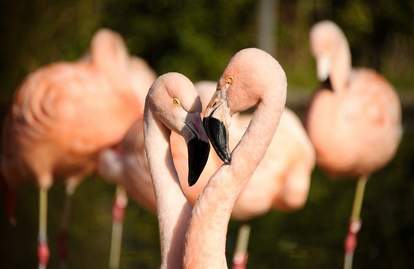 <p><a href="http://www.flickr.com/photos/ekilby/">Eric Kilby</a><br></p>
In 2005, after spending three years at a zoo in Kansas, an African flamingo seized upon an opportunity to escape -- flying to freedom and from the decades of captivity that awaited it.
Eight years later, the flamingo has been spotted, alive and well.
More than 650 miles from its former home at Sedgwick County Zoo, bird-watcher Neil Hayward happened upon the fugitive flamingo on the Gulf Coast of Texas. And although life on the lam might easily be lonely for the only member of an Old World species in the area, the bird had found a New World companion.
From the bands on their legs, Hayward was able to trace the flamingos' origins -- one to escapee's zoo, the other to a nature reserve in Mexico. It's uncertain if they are a breeding pair, but no other flamingos were in sight.
When the escaped flamingo's former keeper, Scott Newland, got word that the bird had turned up in Texas, it seemed to come as welcome news.
"It's a testament to the adaptability of these animals," he told Reuters.
Newland has no plans to recapture the flamingo, opting instead to let it stay free in the wild.