Dog Rescued From Michael Vick's Fighting Ring Is A Kissing Machine
<p>The Champions</p>
<p>The Champions</p>
When Paul Fiaccone first saw Cherry in 2008 on an episode of National Geographic Channel's "DogTown" set at Best Friends Animal Sanctuary in Utah, he immediately applied to adopt him.
"I just kind of fell in love with Cherry right away," he told The Dodo. "I really thought we were going to be a good home for him."
Cherry was one of 22 of the most traumatized dogs rescued from Michael Vick's dogfighting ring the previous year, who were taken in by Best Friends to stay in their sanctuary's Dogtown, a refuge for homeless dogs offering love, healing, play, training and medical care.
Best Friends director of animal care Michelle Weaver, who worked closely with Cherry, told The Dodo he was shy and shutdown and "very scared, nervous about new people, nervous about walking on a leash."
In fact, Best Friends emergency response manager John Garcia, who was co-manager of Dogtown at that time, said as soon as you'd try to put Cherry on a leash, "he would just flatten."
Garcia, who was involved in transporting the 22 dogs on a plane from a Virginia shelter to Utah, found Cherry to be quite unique.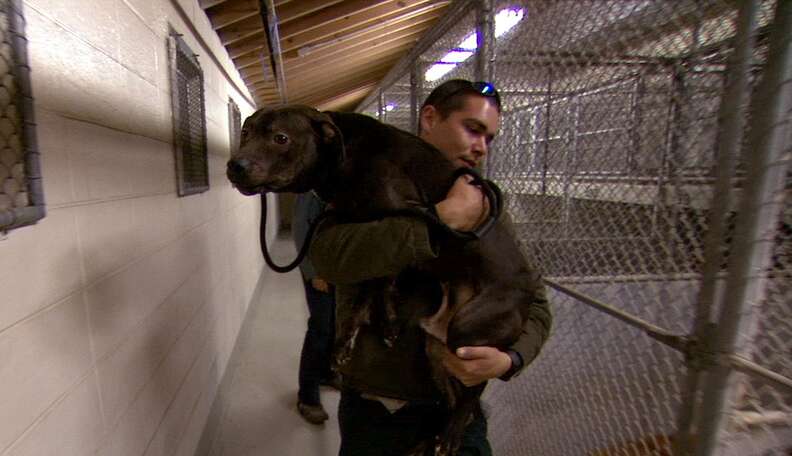 "When I first met him, he was actually a staff favorite in that shelter," said Garcia.
When left to do his thing at the shelter's run, Cherry would run in circles and burst with enthusiasm. But if something new was introduced and he was no longer comfortable, he would go into shutdown mode.
Once Cherry arrived at the sanctuary with the rest of the dogs and was let out of his crate - Garcia will never forget - Cherry walked into the run, grabbed a toy and threw it up into the air.
"You could tell he knew he was in good hands," said Garcia. "He trusted us."
Weaver said Cherry was about 1 1/2 years old, weighing about 40 pounds when he arrived at Dogtown (he is now a healthy 55 pounds, according to Fiaccone). He had - and still has - a large scar on his back. He also had cherry eye, a condition where there is a prolapse of the third eyelid gland. Best Friends' medical team surgically repaired the eye.
What Cherry needed was time. And in addition to love, care and security, that's what Best Friends gave him.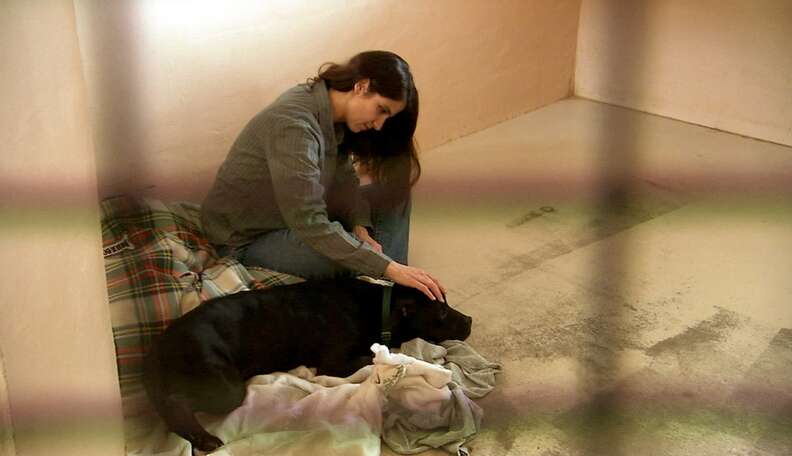 Weaver, who worked very closely with Cherry, spent a lot of time with him while leaving him alone. She'd sit in the same room with him doing paperwork - "just time together without a lot of pressure," she said.
Then one day, during one of these quiet, sitting sessions, Cherry moved toward Weaver to ask for some attention. She was able to pet him. It was a major breakthrough. After that, he started coming up for pets on a more regular basis.
"I think he realized, 'Hey, that feels very good,'" Weaver said.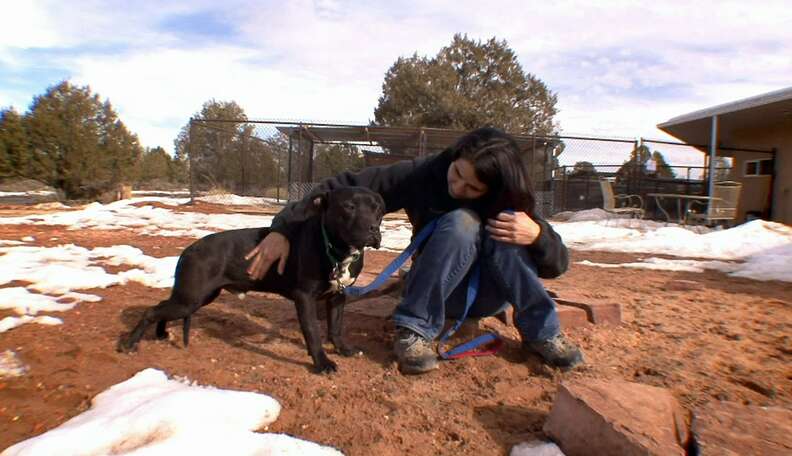 Over the months, Weaver and other Best Friends staff noticed that Cherry seemed interested in other dogs. They tried an introduction to another dog, Willie, who also seemed interested in dogs. That didn't go well because Willie became aggressive.
A second dog introduction was attempted with Handsome Dan, another of the "Vicktory" dogs, which is how they became known at Best Friends. This went much better.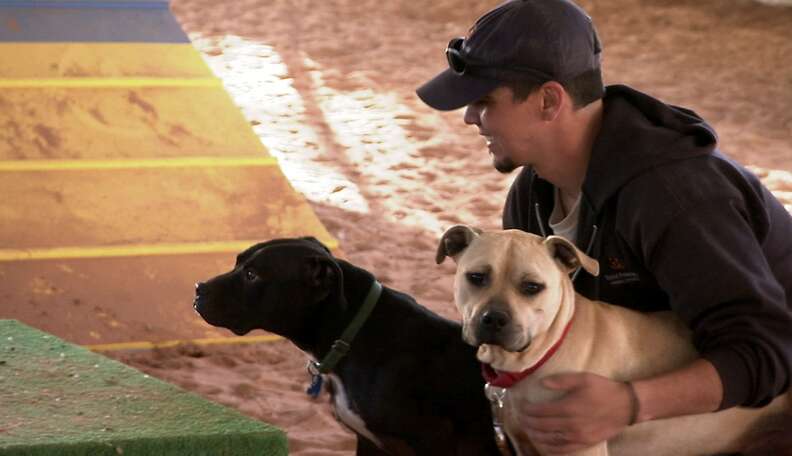 "They got so caught up in playing with each other, they sort of forget to be afraid of us," said Weaver. "Once we realized that he and Handsome Dan wanted to play, we gave him more regular playdates."
Over time, with stability in his life and increasing amounts of socialization, Cherry's real personality began to flourish.
"Inside that scared little dog was a clown," said Weaver. "He was just silly."
Cherry arrived at the sanctuary January 1, 2008. It took some time, but when Paul and Melissa Fiaccone came to meet Cherry the following year with their pit bull mix, Madison, all the puzzle pieces started to come together. Cherry went home with Paul and Melissa as a foster-to-adopt on September 9, 2009. The adoption was finalized on March 9, 2010.
"It was a really difficult time, because he was still really shut down with strangers," said Paul of their first meeting.
They sat in Weaver's office with Cherry and Madison, who was exhausted from the trip. Cherry hid underneath Weaver's desk. After about 45 minutes, Cherry got up and started making his way toward Madison.
"He really kind of sat and plopped down right on top of her," said Paul. "[Madison] didn't even flinch."
Madison was why Paul thought Cherry would do well with their family in the first place. In that "DogTown" episode, Paul saw Cherry open up with another dog. Paul felt Madison's social and confident nature could help Cherry along. He was right.
Madison was the one who helped Cherry learn how to bond with Paul and Melissa. At first, Cherry needed to be coddled - and Madison obliged. But when Cherry needed a little push to be more confident, Madison did that too.
"We grossly underestimated just how perfect she was going to be with the whole situation," said Paul. "Looking back at the whole situation it was really amazing to watch her with him."
It's been 6 1/2 years since Cherry became part of the family. Much has happened in the family's lives. They now have two small children and two cats - and one, their black cat named Walker, is great friends with Cherry.
"Cherry kind of just lays down and Walker walks around and grabs him and bites him," said Paul, adding that they also love a good game of chase. "He's so incredibly gentle with Walker."
When the couple started having children, they prepared themselves by attending classes on how to properly integrate their dogs with a new baby.
"It was an education about what to expect," he said.
They had no problems at all. In fact, Cherry is incredibly patient with the children.
"He loves our kids," Paul said.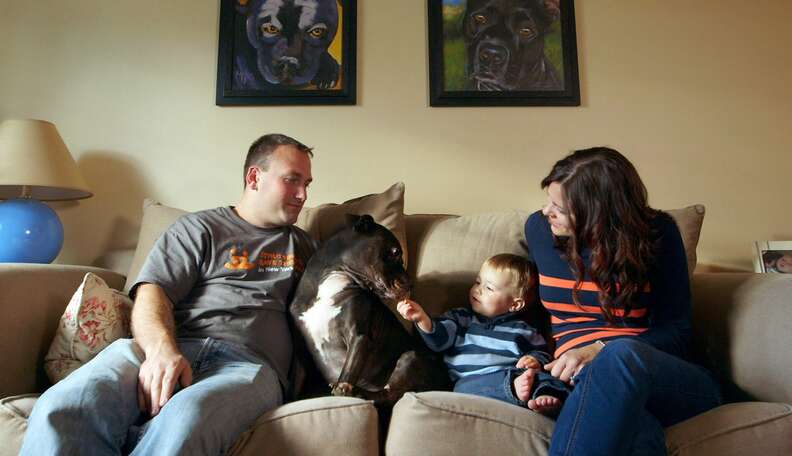 Sadly, Madison passed away in July 2015. After some time, the family started considering a new addition. Cherry didn't seem interested in other dogs they met to potentially adopt -not until he met 18-week-old pit bull Eleanor, who joined their family a couple of weeks ago. Eleanor came to the family's Connecticut home all the way from Tennessee. A rescue in their area brings dogs up from the South for adoption in the Northeast.
"He kind of chose her," said Paul.
Nearly 11 now, roles have been reversed and now Cherry is the wise teacher and mentor of the family - as well as playmate.
In addition to his duties as role model, Cherry is now also a real movie star. He's one of the stars of the new documentary "The Champions," which tells the inspirational story of the "Vicktory" dogs. Cherry has attended five movie screening events to help promote the film and show how far from vicious many of the rescued ex-fighting dogs actually are.
"He knows he's the star," said Paul. "He's so full of himself. He's confident. He loves meeting people."
Cherry has far surpassed expectations Paul and Melissa had for how well-adjusted he could become.
"He's never really stopped progressing," said Paul. "It's pretty amazing."