From Elephants to Orcas: PAWS International Captive Wildlife Conference in Los Angeles, November 8-10
This year has seen an unprecedented wave of public interest in the plight of captive wild animals, spurred by key events such as the killing of a healthy young giraffe named Marius at the Copenhagen Zoo simply because he didn't fit into the zoo's breeding program, and continued airings on CNN of Blackfish, the documentary that exposes the suffering of orca "entertainers" in marine parks.
More than ever, the public is questioning the use of wild animals for display and entertainment. So the time is ripe for the Performing Animal Welfare Society's (PAWS) International Captive Wildlife Conference, which takes place November 8-10, 2014, in Los Angeles, California.
More than 50 visionary speakers from around the world representing the fields of scientific research, animal care and welfare, conservation, ethics and law will come together to discuss issues central to the welfare of captive wildlife such as elephants, big cats, marine mammals and nonhuman primates. They will share perspectives on the use of these animals for entertainment, display and as pets, with a focus on ending animal suffering.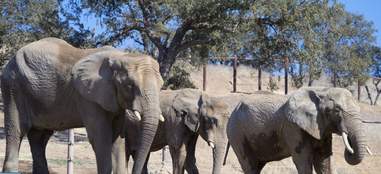 The first day of the conference is devoted to elephants and the many issues surrounding their captivity, care and welfare. Speakers will address the use of elephants in rides, film, display, and in circuses where they are cruelly trained, immobilized in chains and made to constantly travel.
Key issues include ending the use of elephants in entertainment, institutions that perpetuate their use, elephant sanctuaries, conservation, and the ethics of keeping elephants in captivity.
Highlights of the day include:
• A special panel featuring actress and comedienne Lily Tomlin, who is the executive producer and narrator of the Emmy Award-winning HBO documentary An Apology to Elephants. She will be joined by writer Jane Wagner to discuss the creation of this hard-hitting film that takes a look at the treatment of elephants in captivity. (This panel is subject to change.)
• Ed Stewart, former animal trainer and co-founder and president of PAWS, the nation's first elephant sanctuary, speaking about the role that sanctuaries play in ending the use of elephants and other wild animals in entertainment.
• Keith Lindsay, conservation biologist and Scientific Advisory Committee member with the Amboseli Elephant Research Group (Kenya) on a panel addressing elephants, captivity and conservation.
• Author Marc Bekoff, famous for his keen insights into the inner lives of animals, is part of a sure to be lively discussion on the ethics of keeping elephants in captivity.
• Featured speaker Joyce Poole is a pioneer in the study of elephant behavior and communication and co-founder of ElephantVoices. She will introduce a unique perspective on wild elephants - who are at serious risk of decimation due to rampant poaching and the illegal wildlife trade - speaking from their point of view.
The second day of the conference features in-depth panels on important issues affecting marine mammals, big cats and nonhuman primates. Panelists include experts with direct experience of the often-shocking conditions in which these animals are confined in marine parks, roadside zoos and circuses, as well as their use as "animal actors" and exotic "pets."
Highlights of the day include:
• Panel on the use of cetaceans in "entertainment" featuring Animal Welfare Institute marine mammal scientist Naomi Rose, neuroscientist and founder of the Kimmela Center for Animal Advocacy Lori Marino -- both heavily featured in the documentary Blackfish -- and Ric O'Barry, founder of The Dolphin Project and featured in Academy Award-winning documentary The Cove, which exposed the dolphin slaughter in Taiji, Japan, and its links to the marine park industry.
Steven Wise, director of the Nonhuman Rights Project, will describe his revolutionary work to win legal personhood for nonhuman animals in the courts, challenging the status of animals as property. His initial efforts have focused on chimpanzees and may be applied to elephants in the future.
• Gary Baum, author of Animals Were Harmed, the Hollywood Reporter's scathing exposé on the abuse and deaths of animals used in film and television, on a panel about the use of wild animals in these mediums.
• Primate expert Sarah Baeckler Davis, whose groundbreaking undercover work exposed the cruelty behind training nonhuman primates for entertainment, on a panel discussing the use of nonhuman primates for entertainment and as "pets."
• Eye-opening panels on captive big cats - including the enormous number of tigers and lions in captivity and the often-horrid conditions of their confinement.
• Featured speaker David Hancocks, author and former zoo director, will address the issue of zoos.
The final day of the conference delves into campaigns and advocacy and features respected national and international animal protection organizations, as well as inspiring individual advocates making a difference for wild animals in captivity.
Panels will focus on international efforts to end the suffering of captive wildlife, with a focus on circuses, roadside zoos and entertainment, as well as examining issues surrounding the legislation and regulation of captive wild animals.
The conference weekend includes a special anniversary gala celebrating PAWS' 30th year of sanctuary care, education and advocacy for captive wild animals. The gala features gourmet food, entertainment and celebrity guests.
Established in 1984, PAWS operates three sanctuaries in Northern California that are home to a large variety of species including 11 Asian and African elephants, African lions, tigers, and other exotic animals rescued and relocated from circuses, zoos and the exotic pet trade. Its largest facility is the 2,300-acre natural habitat sanctuary, ARK 2000.
PAWS has been presenting captive wildlife conferences since 1992, with the goal of informing and inspiring attendees and promoting constructive dialogue among professionals - all in the service of promoting animal welfare.
For more information on the PAWS International Captive Wildlife Conference and 30th Anniversary Gala, and to register click here. For other inquiries, email cdoyle@pawsweb.org.