Friendly Porpoise Gave Hope To Man Lost At Sea For 31 Hours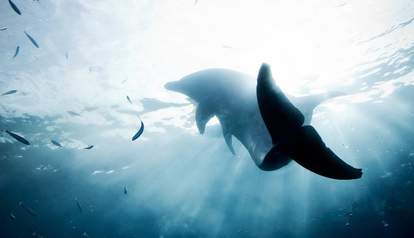 <p><a class="checked-link" href="https://www.flickr.com/photos/ysksmz/14858909485/in/photolist-4Eg6Tq-aJUofF-cLP7af-oD2N7z-7dxf2L-awzidq-3fCGhv-dRBGKJ-4ayvs-bQfcsF-9DFDYF-5uHBP8-f8N4D1-aQTC1Z-4pyVtN-5CyfiR-d6bLos-ii9uK-7xHAeQ-h6Ws8Z-h6V58R-a7sGkj-6CUvW-3zF4i-3zF2o-depjk1-7HemhW-f8xM3V-edhegV-ednT4G-edheuM-aSnWWM-aueJDH-3fHvMW-3PcQAT-mGpz3x-63EE58-5rMS6u-4ayxD-4ayt6-4ayqK-4aytF-4aysC-4ays7-4ayuW-4ayqm-4ayrc-6Ph8KJ-4ayAg-6L629H">Flickr</a></p>
A man who was rescued after spending more than 30 hours stranded adrift at sea says he had been on the verge of giving up all hope - that is, until he suddenly found himself in the company of a friendly local.
Joey Trevino had been fishing with three friends off the coast of Texas last weekend when the boat they were in started taking on water. Before they had a chance to radio in a distress call, the flooded vessel capsized, scattering the crew. Fortunately, all the men had been wearing life jackets, though not long after going overboard, Trevino became separated from the others.
Trevino told news station KIII-TV that he tried to keep his spirits up as he drifted alone by speaking out loud to his wife and kids back home. However, as the hours dragged on without any sign of rescue, he began to contemplate removing his life jacket to hasten what seemed to be inevitable.
However, Trevino came to learn that he wasn't so alone after all. In the depths of his despair some 50 miles offshore, he says a porpoise (a term fishermen often use to refer to bottlenose dolphins) arrived and lingered around him, giving him the inspiration he needed to fight to stay alive.
"Well, he kind of bumped me and I kind of rubbed him," Trevino said. "He kind of changed my attitude right there. He kind of like gives you hope."
Several hours later, a tanker passed close enough to Trevino to hear his calls for help. The Coast Guard had been on the lookout for Trevino since his friends were rescued the day before, and soon a helicopter was dispatched to airlift him to safety. Amazingly, despite his 31 hour ordeal, Trevino was found to be in good condition.
While Trevino's heartening encounter with an aquatic mammal was certainly remarkable, similar stories of cetaceans helping humans in need, directly or indirectly, stretch back centuries. Though some species have been observed actively protecting stranded swimmers from sharks, often just the presence of these animals alone is enough to inspire hope, which itself can be a lifesaver.
Note: In an email to The Dodo, marine biologist Dr. Bernd Würsig points out that the animal in this story was likely a bottlenose dolphin. Although the term "porpoise" is commonly used interchangeably with "dolphin", especially by fishermen and sailors along the Gulf of Mexico, taxonomically the two are considered distinct species.