Friendliest Fox In The World Can Never Return To The Wild
Sometimes, everything an animal goes through in life is written all over her face.
Take, for example, a red fox from Essex County, England, named Aphrodite.
Back in 2013, she was found brutally stuck in a fence. By the time rescuers from the National Fox Welfare Society arrived, she had been dangling by her leg for an hour.
"Aphrodite, either before or during being stuck in the fence, was attacked by a dog," the group's Martin Hemmington tells The Dodo.
Once freed, she needed immediate medical assistance. The ordeal wasn't lost on this traumatized animal.
National Fox Welfare Society
But good company has a way of reviving the soul. After emerging from veterinary care, Aphrodite would wake up to more than a warm meal at the National Fox Welfare Society's facilities.
National Fox Welfare Society
"Supper was served consisting of the usual cooked chicken breast, one tin of Butcher's tripe dog food, some cubes of cheese and a Kipling Apple Pie for dessert," Hemmington noted on the group's Facebook page. "All must have been exceedingly good as she polished the lot off by this morning."
The wounds from Aphrodite's ordeal began to fade. And, little by little, something else emerged in their place.
Something that might be mistaken for gratitude.
National Fox Welfare Society
By the end of 2014, Aphrodite received more encouraging news from the veterinarian. Her leg wound, where the bone was still visible, was healing well.
Sadly, it wasn't all good news. Aphrodite tested positive for toxoplasmosis, a parasitic disease that affects an animal's brain - the part that deals with fear and the fight-or-flight instinct.
In other words, it makes animals unusually friendly.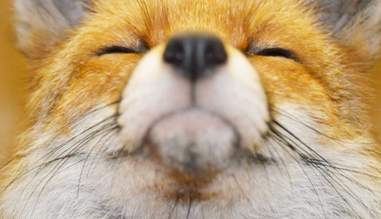 National Fox Welfare Society
Indeed, Aphrodite had grown too docile to survive in the wild again.
"I can put my hand straight in with her and stroke her head without any attempts at her biting me," Hemmington noted on the Facebook page. "She is more like a gentle domestic dog than a wild fox."
And again, you could see it in her face.
National Fox Welfare Society
By the fall of 2015, Aphrodite's caretakers announced they had her toxoplasmosis under control.
But, of course, that didn't make the fox any less sweet.
National Fox Welfare Society
"I can tell you Aphrodite is doing brilliantly," Hemmington tells The Dodo today. "Sadly because of the condition she had, it means she can't go back to the wild as she is too friendly."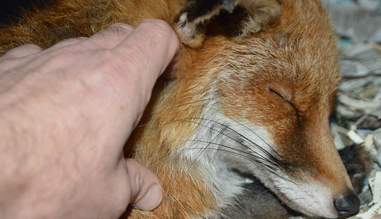 National Fox Welfare Society
Her exuberantly friendly nature doesn't, however, deprive Aphrodite of the company of her own kind.
She shares her enclosure with another vixen named Dotty, Hemmington explains: "And they get on really well."
National Fox Welfare Society
Well, of course they do. Aphrodite can't help herself.
If you would like to support the National Fox Welfare Society and its mission to save the lives of countless foxes like Aphrodite, consider making a donation here.