Cat Chases Down Mailman Every Day Demanding To Be Pet
This mailman delivers more than just the letters and packages - and there's at least one cat who knows it.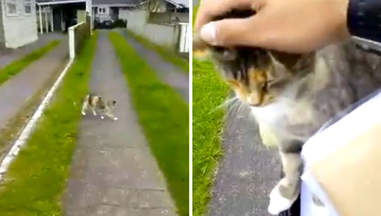 Levi Davis, who works for the New Zealand Post, has struck up a sweet routine with a furry local resident along his route. Each day, while making the rounds in the town of Taranaki, Davis is met by the same friendly cat, who proceeds to chase him down demanding to be petted.
Davis, of course, is happy to oblige him - noting the cat's mailman-esque diligence.
"My little buddy," Davis wrote online. "Everyday I do the mail run this cat comes to see me ... regardless of the weather."
This isn't the first time we've seen a mail carrier go above and beyond to deliver little gestures of love to his non-human clientele - like this other New Zealand Post employee who was caught on camera sharing a sweet moment with a misunderstood dog.
Unfortunately, not all pets are so excited when the mailman drops by.