Homeless Dog Was So Matted He Couldn't Even Move His Legs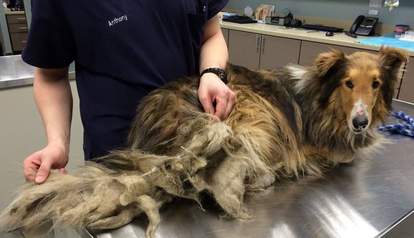 <p><a href="https://www.facebook.com/TrioAnimalFoundation/photos/?tab=album&album_id=10150681606629955" target="_blank">Facebook/Trio Animal Foundation</a></p>
For an entire month, Freight, a gorgeous collie, was hidden underneath a thick, tangled mess of unkempt fur. He was homeless and roamed the confines of a railroad yard in Chicago, evading any and all efforts to capture him. ' People aware of the dog's plight left food out to help him survive, until he was finally trapped and rescued by the Trio Animal Foundation (TAF).
"It took shaving the pup's bottom down to be able to figure out if we were dealing with a male or female dog," the foundation wrote on Facebook. "The burrs, dried feces, urine, twigs, dirt, etc., that were matted into the tangled fur made it impossible to see any anatomy."
Freight's fur was so matted that he was unable to fully extend his back legs or relieve himself.
Instead, his bodily waste was caught in layers of fur and pressed against his skin.
It was only after his fur was shaved off that the 3-year-old dog was able to feel comfort and relief after spending weeks in such a state.
It became obvious that Freight's recovery to full health would take weeks.
Luckily, he was placed into a foster home ...
... where one couple gave him the love and attention he deserved in between hospital trips.
Freight went from being a shy dog, who didn't make much noise, to one who loved to bark to be let out of his cage and receive affection ...
... and he made his gratitude known.
Freight's fosters became so attached to the dog they had worked hard to help, that, in the end, they became "foster fails" - and officially adopted Freight as a member of their family.
"They are so in love with Freight and just couldn't bear parting with him," TAF wrote on Facebook. "By the look of Freight's adoption photo, he couldn't be prouder or happier."
Want to help TAF continue doing good work for animals in need? Consider making a donation here.
Watch this video about people who formed a human chain to rescue a dog from drowning: