Free Willy movie is more relevent now than ever before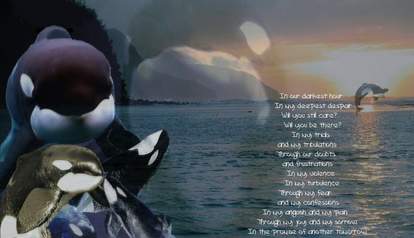 With all the stuff going on with SeaWorld these days it made me think of one of my childhood movies: Free Willy. I am not ashamed to admit that I still love this movie.
For those of you who haven't seen it: "When a boy learns that a beloved killer whale is to be killed by the aquarium owners, the boy risks everything to free the whale." (http://www.imdb.com/title/tt0106965/?ref_=nv_sr_1)
Basically it's about an orca who is captured and put into a tiny, little tank and expected to perform. When he can't, the owner of the theme park decides to collect the insurance for the whale by killing him. Everyone comes together to free Willy (hence the name) and get him back with his family he was stolen from.
The whole premise of the movie is about the inhumane treatment of this dear whale and how they so desperately want what's best for him.
I definitely think it deserves attention these days. It's great seeing the connection between the boy and Willy that develops. And all that they go through and risk so much to save him.
Everyone go watch this movie! Right now.
Plus, Michael Jackson.