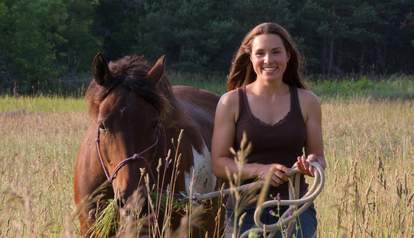 Free Rein Premieres December 16th
Watch Free Rein on Oasis HD during their Free Preview month on December 16th at 9 pm ET "Free Rein" – The Adventure Begins By Jessica Fobert This past summer has been an amazing adventure.
Working with horses and their people is a passion of mine. My process of learning about horsemanship and riding has been combined with my path of learning to teach people about their own horses. Until very recently, my small, quiet horse training business has been slowly growing as I meet new people who share my passion; creating a working relationship that benefits the horse and ourselves mutually.
MG 0362 Free Rein The Adventure Begins Still photography by Takumi Furuichi, © 2014 Free Meadow Productions Inc Working with the horses and their people was challenging at times with a film crew of 8-12 people following us. The large equipment used for blocking out the sun or directing the sun into my eyes was distracting when I was trying to repeat something I had already said 4 times. Several times throughout the summer I would find myself wondering how much footage there would be without me laughing or crying about the situation at hand! My morning ritual of getting up, throwing my hair in a pony and brushing my teeth was slightly different on film days. Wearing makeup to the barn was part of the routine while getting to know everyone over fresh coffee each morning.
Bellator was the perfect horse for the first segment. He was huge, friendly, and well trained. I applaud Vicki for taking the initiative to work through this minor dilemma in order to develop a stronger working relationship with her horse. She's a very experienced horsewoman, and she had already taken Bellator to several shows and competitions with great success over the years.Vicki's challenge with his biting seemed to develop over time with his training, so I was confident that we could undo the behavior. I'll admit I was a bit nervous about how long it would take to get to the source of the biting and change the habit. This gelding was very sensitive to the extra energy of the crew, and his behavioral challenges were heightened on film days. At times I found myself wondering if we were going to capture the immense improvement that he and Vicki had made in such a short time. I have worked with horses who bite in the past, but Bellator was different. He would grab at halters out of playfulness, and also grab at anything or anyone when he was nervous or frustrated. His playful goofiness would flip to biting in seconds when he felt too much pressure. We had to place the crew very strategically (and only the people absolutely necessary to get the shot) in order to respect Bellator and Vicki's space as they got to the source of his biting. I've worked with Vicki and Bellator since then, and I can honestly say that his biting is behind them, and they are both much happier to move on to other challenges.
Walking through an auction is an eye-opening experience. People bring all breeds and ages of horses for all kinds of reasons. Some of the horses there were merely the result of an owner in financial hardship looking for a fast sale. Many horses seemed healthy, and some were even saddled to prove that they were trained and rideable. "Prospero" was one of the horses who was at the auction for the opposite reason. When I found him I made the difficult decision to take the chance on a horse who was underweight, tired, and potentially ill. No one else was going to take him home, and I knew he was destined to end up in a feed lot unless I bought him. The day at the auction was by far the most stressful for me. The negative attention the film crew attracted by onlookers was intense. Yet Prospero amazingly seemed to understand what we were trying to do for him – as he followed my lead everywhere without hesitation. His recovery was slow, and at times I felt as though we would take one step forward and three steps back. I was glad to have a wonderful vet to assist with his acute health issues. We were successful in rehabilitating him because we had so much support from Riva's Remedies in strengthening his immune system and digging deeper into his hidden ailments. Prospero's success story is just the beginning of his journey, and I'm glad we were able to give him the Encore he deserved.
Going to Horse Spirit Connections to follow Olin's progress was refreshing. Unlike the other segments, the horses were the teachers at this farm. A traditional approach to horses and riding includes the mentality that , "You must show the horse that you are the boss, they sense your confidence" . Most riding stables will live by the rule that bravery around horses is what makes them listen to us. This segment was completely different because Olin was visiting the farm with anxiety and self confidence issues. At no point in time was Olin asked to assert himself in a way that would make him uncomfortable, and yet by the end of each session he was relaxed and able to communicate with the horses with ease. I wish every horse enthusiast could have the opportunity to try this – just to give them a chance to allow their communication to develop rather than force the horse to hurry through a program. Riding is always more beautiful when neither horse or rider is forced.
I was approached (what feels like a lifetime ago) by Zoë Carter, Free Rein's creator, when we met over coffee and two adorable ponies. I remember the day when she asked me a light-hearted question of whether I would be interested in taking part in a tv show about horses. I'm sure my answer was as brief as my thoughts were, "sure, let me know when it gets off the ground". This summer has inspired a whole new kind of learning, and I'm so thankful for the experience and opportunity to take part in "Free Rein".