Animal rights France: Shocking video of police brutality on non-violent activists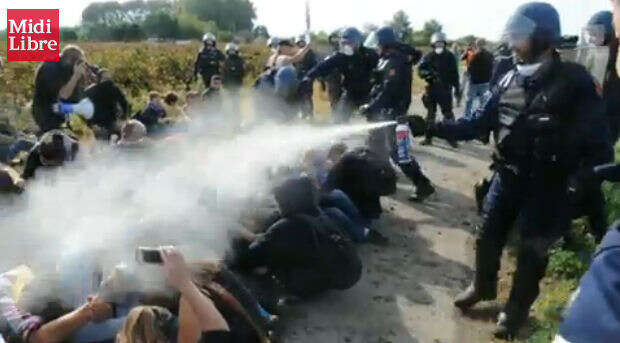 Exclusive video from Jane Unchained with Jane Velez Mitchell, Donny Moss of TheirTurn.net and journalist Carole Raphaelle Davis
It could only be described as a siege. For over 10 hours, 600 anti-bullfighting activists lay siege, military-style, to Rodilhan, a small town in the south of France yesterday, blocking cars full of bullfighting fans from entering or exiting the village as they clashed with police. The animal rights activists were protesting a bullfight in which as many as 16 bulls were stabbed to death, including several young calves.
The besieged town looked like a battle zone with 12 foot high barricades being guarded by SWAT officers, shields up, wielding batons and gas canisters. Some officers held barking attack German Shepherds just inches from animal rights activists. The activists arrived early - around 7 a.m., their cars were searched by police in riot gear and many of the activists were body searched. Police orders were clear - to keep the protesters far away from the bullfighting ring. Caught up in the searches and blocked roads were the bullfighting fans, who were more than inconvenienced; they had to drive at a snail's pace through several gauntlets of angry animal rights activists waving signs of gory bullfighting scenes, banging on their cars and screaming, "Shame on you! Murderers! Assassins!" "We have been trying for two hours to get in but it's impossible," said a fan to France3, a local news station.
"We can't get in, so nobody else gets in and nobody gets out!" said activist Audrey Anaiis via Skype this morning, explaining how the anti-corridas had separated into five groups blocking each of the roads to the village by sitting down and locking arms in the middle of the roadway. Activists repeatedly clashed with SWAT officers throughout the day amid a totally chaotic scene blurred by smoke bombs and teargas. Blaring sirens made communications difficult for riot police as well as the protesters. Scores of gendarmes violently removed activists from their "locked and sit-in" positions on the rural roads again and again, hurling them with great force into the fields. It was surreal to see activists screaming as police officers, who looked like extras from the movie Robocop, threw them like rag-dolls into the vineyards of the otherwise bucolic village in Provence.
Roger Lahana
On several occasions, fans drove their cars directly at the activists, attempting to run them over, while police officers stood by, unfazed. Only 400 or so ticket holders were able to make it past the activists, and even then, only with a police escort. Activists succeeded in turning away several dozen cars full of fans. Videos on Facebook show police telling fans to turn around and try another road. All but one of the roads were blocked. The activists' strategy, if it was not successful in "stopping the massacre of bulls," undoubtedly achieved one goal – to destabilize the organizers and fans of the spectacle.
In one violent scuffle, a police officer in riot gear punched and kicked a 55 year-old female activist so hard he broke her leg. All she was doing was sitting in the road, said witnesses. Several activists reported that the officer looked "out of control and in a rage." The same officer then punched another female activist. "He punched her, beat her badly," said Ms. Anaiis. "The other cops pulled him off of her. She wasn't even doing anything! This cop was crazy, a crazy man!"
Videos posted on Facebook show officers spraying seated activists with teargas at point blank range over and over again. "Stay where you are!" yells one of the activists as many of them scatter from the blinding and asphyxiating gas, "You won't feel any better over there, so just stay where you are and continue blocking the road!"
Serge Reder, Rodilhan's mayor, a notorious bullfighting fan who is currently facing charges of assault for a 2011 incident in which he participated with bullfighting fans in the serious beating of animal rights activists, seemed to have prepared for war, not the management of a peaceful demonstration. On Saturday, he announced to the town's 9000 inhabitants to stay inside Sunday as no one would be allowed to circulate because of the heavy security around the bullfighting arena. He asked the French government to provide over 250 police officers to secure the perimeter of the village and to keep protesters from disrupting the bullfight as they had achieved in 2011.
"We are very happy; this was a big step forward strategically" said Roger Lahana, vice president of CRAC Europe, the leading anti-bullfighting organization in France. When we saw that the town had blocked the five roads leading to the arena, we quickly devised our strategy to divide activists into five groups and block all entrances to the town. Mr. Lahana told this reporter that he was very pleased to have succeeded in delaying and perturbing the bullfighting activities all day long.
There were 10 arrests and the several activists who were punched, gassed and kicked by police officers will be pressing charges later this week.
A video taken by Simone Viau, who posted it on Facebook, shows a scene from later in the afternoon, only 100 meters from the arena. In it, a small group of activists pace the street right in front of the barricades, heads bowed, crying quietly as the heart-wrenching cries of a calf being stabbed to death pierce the smoke-filled air. The activists stop chanting, the sirens have stopped blaring and all is quiet but for the guttural moans of the calf, who bleeds out in agony. It sounds like he is crying for his mother. On the other side of the wall, so close, is the sequined killer in pink tights and his accomplices. When the calf's screams fade, incredibly, one can hear polite applause from spectators as if they were at the ballet. At that moment, Jean-Pierre Garrigues, president of CRAC Europe, roars with authoritative rage into his bullhorn, "You sadists! You perverts! You twisted, vile barbarians! This is a scandal! You've turned France to shit! When will you stop this torture, you criminals?"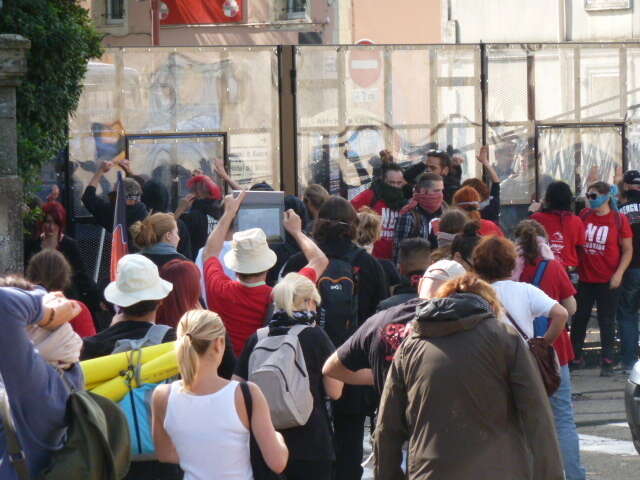 Bullfighting is considered an "art" in southern France. It is illegal in 90 percent of French territory under animal cruelty statutes and punishable for up to two years in prison. Only a few dozen towns are allowed to organize legal bullfights under a special judicial exemption for municipalities which can prove "an uninterrupted tradition of bullfighting." Over 80 percent of the French population is favorable to a law abolishing bullfighting entirely. Yet, bullfighting is subsidized by the European Union with 600 million Euros per year.
"They've got it upside-down," said Carole Saldain, a CRAC representative. "They are the violent ones. We are the ones peacefully defending life."
Mayor Reder could not be reached for comment but defended what he called "our traditions" to the local news, saying they would continue these spectacles despite the "violence" of the anti-corrida activists.
What you can do:
Call and email the French embassy in Washington DC as well as the French Consulate in New York to tell them you will not go to France until they abolish bullfighting. Call the French bureau of tourism in the US and tell them you are scandalized by the brutality of bullfighting and want it abolished.