When the farmer saw the baby fox in his field, he went to his neighbor's house to borrow their gun so he could shoot the animal. Luckily for the fox, the neighbor wasn't home, so the farmer called a local rescue group to remove the fox instead.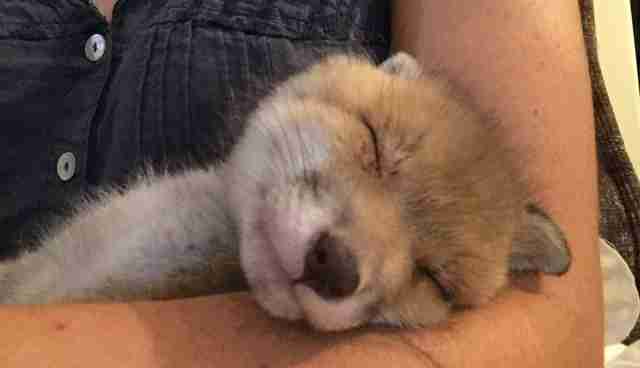 The baby fox in the field, however, got a second chance at life with Sydney Fox Rescue, a non-governmental organization that rescues and rehomes baby foxes, called "kits." Sydney Fox Rescue will neuter, vaccinate and microchip the foxes, then keep them in special enclosures, and never release them back into the wild. When the baby fox - named Willa - arrived, the team at Sydney Fox Rescue treated him for tick paralysis, then re-homed him and another kit, Athena, at Sugarshine Sanctuary, an animal haven in northern New South Wales, Australia.
A few days after the two kits arrived at Sugarshine, Athena was tragically killed by a python snake. Willa was lonely after this happened, and he started following Isabel (a.k.a. Izzy) the resident greyhound around the sanctuary.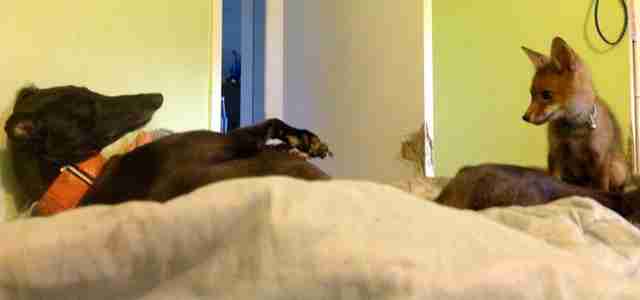 Like Willa, Isabel had dodged death. She was a failed racing greyhound, and since she was no longer valuable to the racing industry, her owner had taken her to the vet to euthanize her. A woman overheard the owner talking to the vet staff - she stepped in, insisting on taking Isabel to a rescue group. After being rescued, Isabel was adopted by Kelly Nelder, the co-founder of Sugarshine Sanctuary.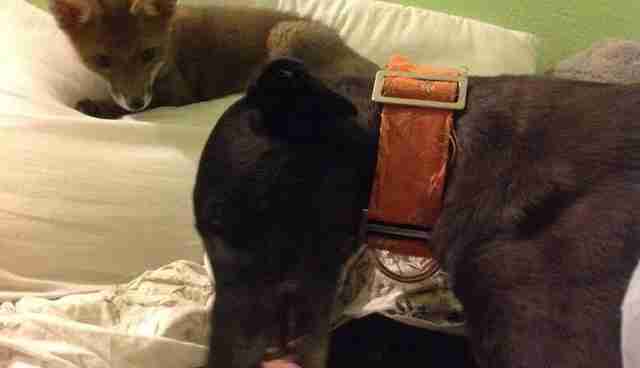 Isabel took an immediate liking to Willa, and their friendship bloomed. "Isabel has a very gentle and tolerant nature," Nelder tells The Dodo. "She'll let Willa jump all over her, steal her food and snuggle against her tummy."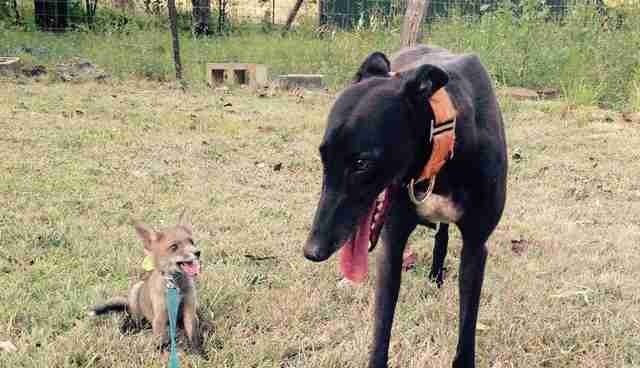 On Willa's first trip to the beach, he was initially quite scared. As Nelder explains, foxes like hiding undercover, so being out in the open would have been frightening. But Isabel stayed by Willa's side and made sure her friend enjoyed the beach. "Isabel's a very fast runner, but she slowed her pace right down and walked near Willa," says Nelder. "Soon after that, they were digging holes in the sand together and frolicking in the dunes."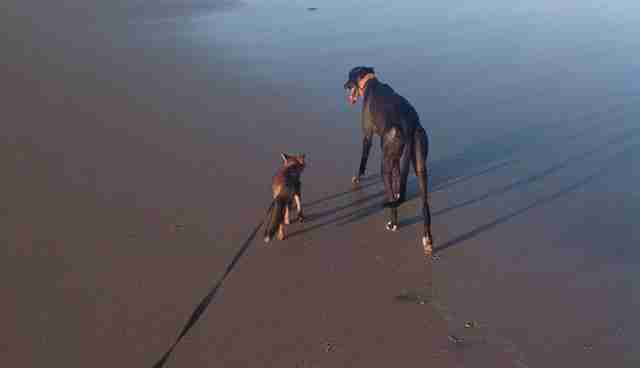 Willa loved his beach adventure with Isabel, but his favorite activity is sneaking up on Isabel and trying to steal her tail. "It holds endless fascination for him," says Nelder. "He sneaks behind her, stares at her tail for awhile, then pounces. If he gets hold of her tail he tries to take it to his hidey spot with his toys. He doesn't seem to realize that Isabel's permanently attached!"
As payback, Isabel loves putting Willa's entire head in her mouth and gently holding it there, especially when Willa gets overexcited.
When they're not roughhousing inside Willa's enclosure, Willa and Isabel snuggle together, and Isabel licks her fox friend's head and tummy.
Willa isn't the only fox living at Sugarshine - there's also Blossom, Toffee and Custard. "Foxes are funny, curious and mischievous creatures," Nelder says. "Our foxes think it is very funny to try and steal visitors' shoes off their feet and to sneak up under the benches in the enclosure and nip people on the bottom! Foxes poo and wee on things they like so I was very flattered when Willa spent a night inside and I woke up with him weeing on my head at 2 a.m."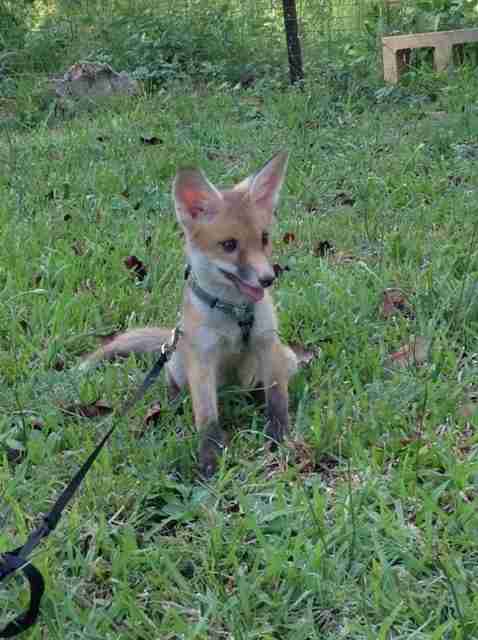 A pest control order has now made it illegal for individuals to keep foxes as pets in New South Wales, and other Australian states have similar policies. Fortunately, Willa was registered as a pet prior to the ban, so he's exempt and can continue living at Sugarshine Sanctuary. But the new pest control order is bad news for other foxes - not only is it now illegal to rescue and rehome a fox, but any injured or orphaned foxes are required to be euthanized.
And sadly, Willa can no longer go to the beach with his best friend Isabel.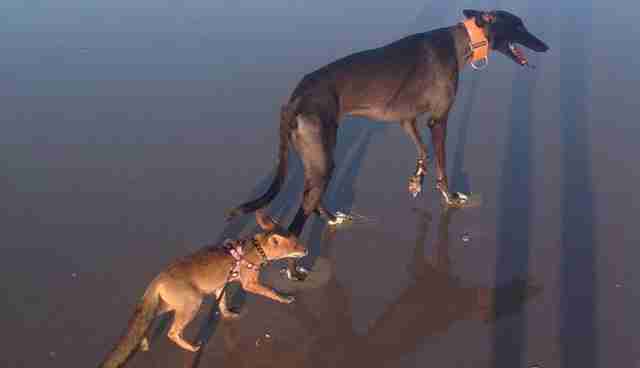 "There are no evil animals," Nelder says. "Yes, wild foxes can be deadly to wildlife, but if kept in enclosures and well cared for, they are no longer a threat but are beautiful funny animals with loads of personality. They shouldn't be killed just for being born a fox, but unfortunately the current pest order means just that."
To help animals like Willa and Isabel, you can support Sugarshine Sanctuary by donating here and Sydney Fox Rescue by donating here. You can also help Willa's fox friends by signing this petition.