A small snowy owl, affectionately named Whitey, was rescued from the back of a Canadian farmer's fertilizer truck about two months ago -- but he has made a remarkable recovery at Sandy Pines Wildlife Centre (SPWC) in Napanee, Canada.
"The farmer was about to load the liquid fertilizer and looked inside and saw the owl trapped in there," SPWC director's Sue Meech told theNapanee Guide. "He brought him in, and the owl was thin and had damaged feathers from struggling in the truck. We cleaned him up and got some weight back on him and got him flying again."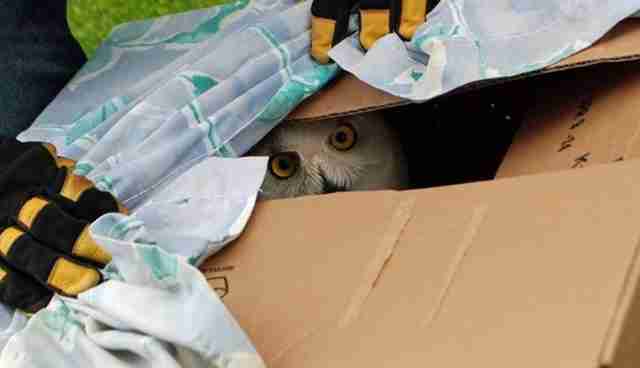 After Whitey had healed, his rescuers needed to find the right place to release the owl. "We knew we had to get him as far north as possible," Meech said. "Snowy owls are very susceptible to West Nile Virus, as up north there are not as many mosquitoes that carry it. We wanted to get him as far north as possible. Although he probably would have flown, he's weak after being in captivity for two months."
To that end, SPWC contacted the volunteer group Paws N Pilots Canada, who transports rescue animals to shelters across Canada. In a small plane, they flew Whitey the 500 miles from Napanee to Moosonee in northern Ontario.
Whitey quickly took to the great Canadian north, once again spreading his mended wings.