This Dog's Former Foster Mom Is Looking Everywhere For Him
"I just want to know that he's OK."
Benn was already 10 years old when Megan Duke found him at a shelter in Manatee County, Florida.
He had come in as a stray. He was adopted once, and then returned to the shelter, by someone who said he didn't get along with the other dogs living at what was supposed to be his forever home.
Megan Duke
Duke told shelter workers that she wanted to rescue an elderly dog who might not have a good chance of finding a home. That's when they brought her to meet Benn, who at the time was called Carlos.
When she met the unwanted dog, she instantly felt a connection. "I knew right away he was perfect," Duke told The Dodo. "He followed me around and wouldn't leave my side. He wanted a home."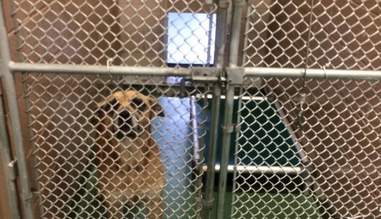 Megan Duke
Duke noticed Benn had a ring of raw skin around his neck, which she believes came from being tied up outside for long periods of time. He also had a chronic ear infection and discharge around his eyes. "I knew he wouldn't last long in the shelter," Duke said. "I had to do something. I took him home at once."
Megan Duke
Duke took Benn home and noticed that despite the rumors that he didn't get along with other dogs, he bonded with Duke's two other dogs quite well - although he did need to be separated from her cats. "I knew then that he hadn't been given a fair chance at his last home," Duke said. "He had gotten along with my pups without any issues."
Megan Duke
When she took Benn to the vet, Duke discovered that Benn was suffering from Entropion, a genetic condition that can damage a dog's eyes and that required surgery. Duke and her grandmother raised the money and got Benn the surgery he needed.
After three happy months, Duke had to find Benn his real forever home, since she had to move from Florida to Iowa for a few months. "Despite my desire to have Benn stay with me, it just wasn't going to work," Duke said.
Megan Duke
But this proved more complicated than Duke had anticipated.
At first, Duke thought Benn would be able to stay with her father while she searched for a proper forever family for Benn. But Duke's stepmother discovered she was allergic to him, and Benn's stay was short-lived.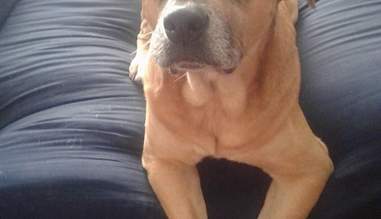 Megan Duke
"Benn was going to have to find a new place to stay ... again," Duke said. By this time, Duke was about to depart for Iowa. "I was leaving the state and I needed to find Benn his forever home, and I needed to find it fast," Duke said.
Through a high school friend, Duke discovered a woman who was living in Minnesota and was willing to take Benn, after hearing of all his struggles. "She wanted to do whatever she could to help. Despite living in Minnesota, she decided to take Benn in without even meeting him," Duke said. "I was thrilled and relieved for Benn that this was FINALLY his happy ending."
So, at the border between Minnesota and Iowa, Duke said her goodbyes to Benn. "I wish I could say he lived happily ever after, but the story does not end there."
Megan Duke
Two weeks after she said goodbye to Benn, Duke received a message from the woman. Benn had been surrendered to yet another shelter, Animal Humane Society (AHS) branch in Woodbury, Minnesota. Duke immediately called the shelter. "I needed to know he was alright and to see if there was anything I could do," Duke said. "I couldn't stand the thought of him being back in ANOTHER shelter! This poor dog just a wants to be loved but keeps being failed!"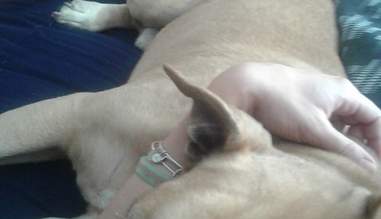 Megan Duke
When AHS located Benn in the system, Duke felt that the only way to help him would be to adopt him. Duke's hands were tied. She couldn't adopt him because her new one-bedroom apartment was just too small for another animal.
"If there was a feasible way to make it work, I would have, but it just wasn't going to be possible," she said.
Duke could do nothing but watch Benn's profile appear on and off the adoption website. She also kept calling. Benn was transferred to another location, but Duke never learned why.
Megan Duke
In the meantime, Duke kept looking for a family for Benn, even though she couldn't be sure where he was. "I had finally found someone who wanted to adopt Benn, but she said she wasn't able to find him on the website, again," Duke said. "I called immediately and they said they couldn't find him in the system."
This is because Benn had apparently been adopted two days before.
As much as Duke wants to believe the good news, she remains skeptical. "I found it hard to believe, given Benn's past, his chronic eye issues and his age, that someone had adopted him so quickly," Duke said. "I want nothing more than to believe that Benn was adopted and he found a family that will love him forever."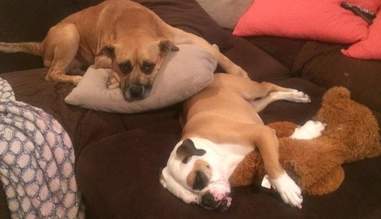 Megan Duke
Duke contacted The Dodo in hopes that publishing Benn's story would help her find him, and put her mind at ease. "It's hard not knowing what really happened to him," Duke said. "Benn has gone through so much and I tried so hard to keep him safe and to find him a home ... I just want to know he is OK!"
Luckily, Carrie Libera, content and media strategist for Animal Humane Society, replied to The Dodo about Benn: "I'm happy to report that Benn was adopted from Animal Humane Society on September 23. It looks like while he was here he was treated for a few senior related health issues, but nothing major, and the adopters were informed of how to keep him happy and healthy going forward."
The Dodo requested to hear from the adoption family, and hasn't heard back yet. But Libera is hopeful. "As far as we know, he is still with the family. We ask that if an adoption doesn't work out for any reason, that they bring the animal back to us, and he has not been returned."
We'll update this post if we have more information.