Cuddliest Foster Cat Ever Just Can't Seem To Find His Forever Home
Otto has FIV, and he's been waiting for over seven months to get adopted.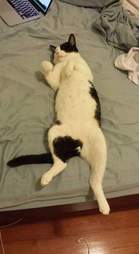 Molly White/BFF
Otto flourished with his doting foster mom, transforming into the most cuddly cat.
"He loves to snuggle, and when he's not doing that he likes to nap on the radiator or near me on the couch," Molly White, Otto's foster mom, told The Dodo. "He loves to knead people while he's snuggling, and when he really gets going he even sometimes starts to drool."
Molly White/BFF
At 6 years old, Otto still acts like a kitten, playing with shoelaces and even with the stream of water coming out of the faucet.
And his rescuers say that FIV - which cannot be transmitted to humans or dogs - will not prevent Otto from living a very long and normal life. And, in general, cats with FIV can live with other cats without transmitting the virus.
Still, seven whole months have now passed - and Otto continues to wait for his forever family.
"I think he's mostly had a hard time finding a forever home because he should be an only cat," White said, explaining that being picked on by the other strays on the streets made him scared of other cats.
She also suspects that his FIV positive status hurts his chances of a forever home.
While there is currently no cure for FIV, which makes cats more prone to infection, cats with the disease can still live healthy lives. As long as FIV-positive cats are kept indoors and fed balanced, appropriate meals, their chances of staying healthy stay high. The only difference between Otto and a cat without FIV is he will need to get regular check-ups at the vet twice a year, to make sure he isn't suffering from any infections.
Molly White/BFF
"Some people are worried about health complications down the road," White said. "Cats with FIV often live long and healthy lives - Otto, for example, is 6 years old and his FIV has not slowed him down at all!"
"He's a truly spectacular cat," White said.
If you think you can offer Otto the home he deserves, you can contact BFF at this address: catadoptions@bostonsforgottenfelines.org.
BFF feeds over 160 homeless cats per day, while also saving tame strays, like Otto, and finding them forever homes. To help BFF, you can make a donation.
Molly White/BFF