Last year, Reece's human made a heartbreaking decision few pet owners could even imagine having to make. After falling on hard times, becoming homeless as a result, the man was forced to relinquish custody of his beloved pet - hoping to give Reece a chance at a better life by putting him up for adoption at a local no-kill animal shelter.
"He had lost his job and his home," Brittany May, from the Great Plains SPCA in Missouri, told The Dodo. "We do offer help to families with pets, but obviously if you don't have a place to keep them, then you don't have a place to keep them."
So the man, whose name is withheld out of respect for his privacy, had to say goodbye to Reece, likely thinking they would never see each other again. He was wrong.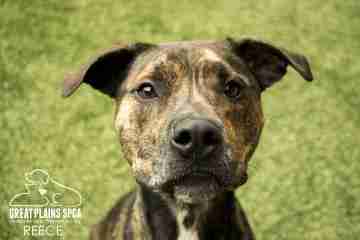 Though his former owner might have wished for a fast happy ending - for Reece to get a new family that would be able to provide him with love and room to play - the dog had no such luck. For more than a year, Reece waited and waited for an adoption that never came, becoming one of the shelter's longest residents.
"It's just incredible. All of our staff and volunteers just had the biggest smiles on their faces that we were able to get them back together," shelter staffer Rachel Hodgson told The Dodo. "They found each other a year later. It feels like it was meant to be."
The welcome re-adoption of a pet who had to be given up is something the shelter workers had never seen before - nor had they ever seen Reece so joyful, said May:
"You could definitely see that [Reece] recognized him. He zeroed right in on his owner and got so excited. You could see it on his face: 'It's you! It's you!' I mean, he has his family back. What could be better?"