In recent weeks, flooding in Louisiana has reached crisis levels. Stories of death and survival are still all over the news, but soon, more current events may replace them. But recovery takes months, even years.
A small county in West Virginia is still suffering the effects of similar floods that happened earlier this summer. Torrential rain and thunderstorms battered West Virginia so hard on June 23 that 23 people were killed and many others who were displaced are still trying to get their lives back. And countless animals who lost their homes and families still need help.
Many counties were lucky enough to have large, fully staffed shelters that were reaching out to people over the local news stations. Donations came pouring in, and the help was much appreciated. But one county kept getting overlooked.
Only a little over 26,000 people reside in Nicholas County, West Virginia. The main industry was coal mining, but a decrease in coal production has led to a 76 percent drop in coal mining employment in this area just in the past few years. The people depend on one another as friends and neighbors, and no one proves that more than Nicholas County Animal Shelter director, Tracy Plambeck.
The day after the storm, Plambeck and her coworker, JJ Tompkins, began heading out to see what they could do to help. That meant shutting down the shelter because they are the only employees there. "In April of 2015, the county cut the shelter from four employees to two," Plambeck told The Dodo. "It's been JJ and I doing everything since then." That means cleaning, feeding, adoptions, surrenders and, now, recovery missions.
In the first day alone, they found deceased animals washed away in floodwaters along with people's belongings. They saw homes underwater. They picked up stray animals and dropped off food to people who had already set up tents while they waited for help to arrive. They had to do a lot of walking to find people, as there were no roads where roads had once been. They did this day after day, bringing in dog after dog, humanely trapping cat after cat.
But it didn't stop there. The shelter was inundated with people surrendering their pets, too. "People no longer had homes to go to anymore," said Plambeck. "They had no other choice but to leave their pets with us."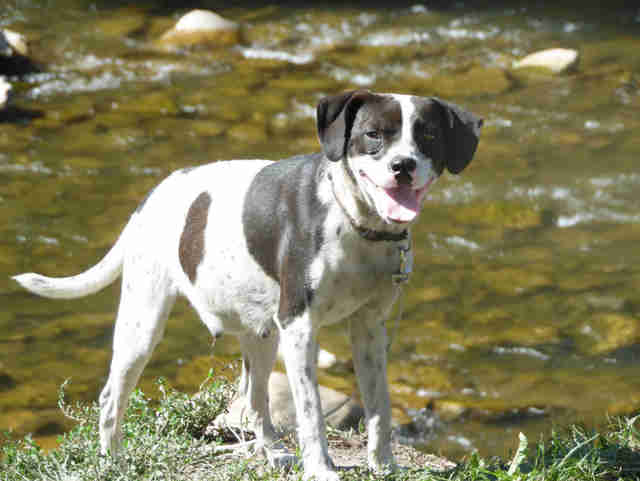 Some animals Plambeck and Knowles picked up were reunited with their tearful owners. But that was very rare. The shelter was overcrowded. Normally, the shelter can hold 40 dogs. Now, they were tripling dogs up in kennels. Still, every day, Plambeck was out in the field, bringing out supplies and rescuing stray animals.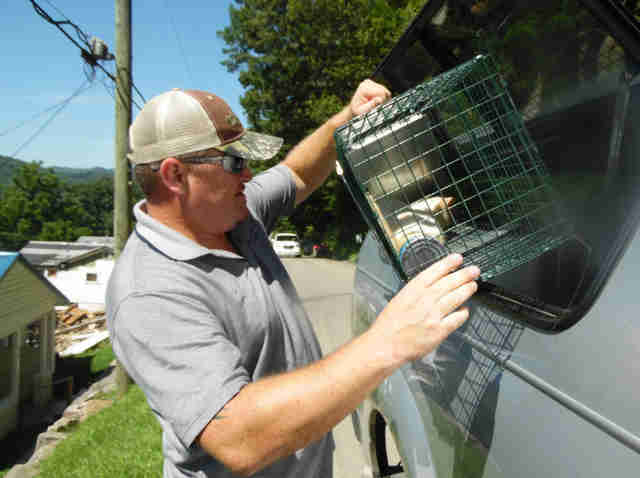 Heather Severt, West Virginia's state director for the Humane Society of the United States (HSUS), stepped in to help. She worked with emergency placement partners and arranged for 36 dogs and 26 cats to be pulled from the Nicholas County Animal Shelter and taken to the Dutchess County SPCA (DCSPCA) and the Ulster County SPCA (UCSPCA), both located in New York.
Leah Hapeman, animal care manager at the DCSPCA, was taken aback by the conditions of the Nicholas County Animal Shelter. "We have a beautiful building that was only recently built," Hapeman told The Dodo. "To see what they are working with here and how much they do for the community really tugs at your heart."
Severt also arranged for a special grant to get the Nicholas County Animal Shelter $500 in cat vaccines. "This is not something we normally do, but the need was there," Severt told The Dodo. "People lost pets and the cats were taking up a lot of space and being held longer than normal for the community."
Plambeck is so grateful for the help from the HSUS, the DCSPCA and the UCSPCA, but so much more help is needed. The shelter is full again and her community is still suffering. "People are still living in tents and some have resorted to buying repossessed storage units to live in," Plambeck said. "At least the storage units have a way to be locked, so what they do still have can be kept safe."
The shelter itself has not seen renovations in years. Plambeck and Knowles work seven days a week, with a budget that was cut in half three years ago. Plambeck recalls the day she was cleaning a dilapidated kennel when she cut her hand down to the tendon. She simply went to the ER, got her hand stitched up and returned to work. "I know what it can be like and what it should be like," Plambeck said. "I have a vision and a dream for these animals and this shelter."
Nicholas County Animal Shelter continues to rescue animals affected by the floods, in addition to the daily business of accepting surrenders and picking up strays. The shelter, already in need of serious renovations, has suffered water damage and additional wear and tear from the influx of animals.
The reporters are gone, but the people and animals of West Virginia still need help. If you would like to donate to the shelter to help with rescue efforts, supplies and renovations, checks, gift cards or money orders can be sent to Nicholas County Animal Shelter, P.O. Box 579, Summersville, WV 276651. Any amount would be greatly appreciated.