For #GivingTuesday, Help The HSUS Help Pets in Poverty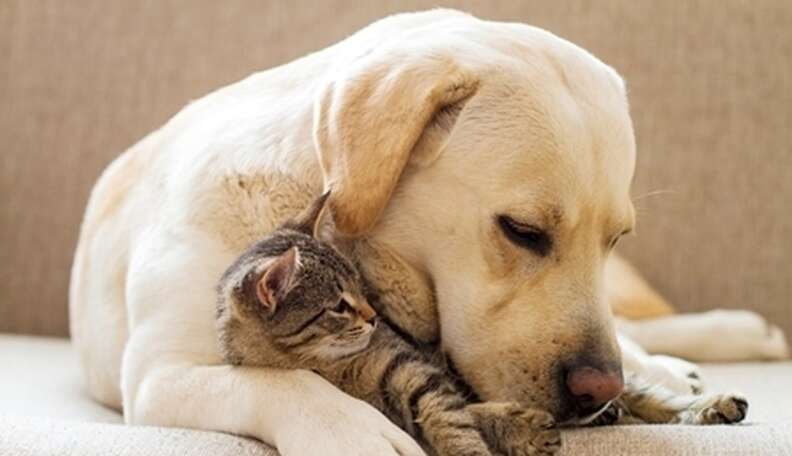 When The HSUS's Pets for Life team met Philadelphia resident Amalia Acosta and her dog, Fiero, in 2012, Amalia was in tears. She faced the tough decision of giving Fiero up: she loved him very much, but the strong and energetic dog was hard for the older woman, who had recently had heart surgery, to handle. Pets for Life swung into action, helping Amalia and Fiero get enrolled in dog training classes, where Amalia learned how to handle Fiero's energy and strength, and walk him safely on a leash. Four years on, Fiero and Amalia are still happily together and even have a new dog and a new cat in the family.
The Pets for Life program is a great example of the direct, hands-on work that The HSUS does in communities across the United States. Recently, this life-saving, life-changing program hit a major milestone: 100,000 pets helped with veterinary care and services in underserved communities. On Giving Tuesday today, we are celebrating and highlighting this unique program that keeps and supports pets in loving homes, and that has made such a meaningful impact in just the four years that it's been around.
An estimated 23 million pets in the United States are in homes where their caretakers live at or below the poverty level, and that typically leaves the animals without access to veterinary care. The goal of Pets for Life is to take veterinary care and services to these homes, ensuring access for all pets regardless of their location or income level.
Currently, Pets for Life works in four core cities where our staff is on the ground helping pets and their people every day: besides Philadelphia, we are also in Atlanta, Chicago, and Los Angeles. Additionally, we have 31 mentorship communities in which grants are provided to local organizations, supported mainly by PetSmart Charities. Our team provides in-depth training and ongoing guidance to these communities. In coming years, we hope to continue growing our work in the four core cities, and to add more mentorship markets.
To date, in our four core cities, we have spayed/neutered over 35,000 dogs and cats. In 2015 alone, Pets for Life has provided over 33,000 pet wellness services and supplies to families.
What also makes us proud is that Pets for Life has had an impact not just on the pets in communities but also on the people - people like JC Ramos. Early in the program, our staff and volunteers met JC, a resident of North Philadelphia, when we provided spay/neuter services for all of his dogs and cats. He immediately became a great advocate in the community for us, and both he and his wife, Elizabeth, started volunteering, helping us reach out to the Spanish speaking community. When we were looking for a new community organizer in 2013, we knew JC would be a perfect fit and an awesome addition to our team. Now as an employee of The HSUS, he is helping more people and pets.
In addition to the services it provides, one of the greatest impacts of Pets for Life has been that it has started conversations in neighborhoods on the benefits of spay/neuter, connected a new audience to adoption, and reached out to give support for communities that are often overlooked and truly animal service deserts.
On Giving Tuesday (#GivingTuesday) today, a day distinctly different from the consumerism of Black Friday and Cyber Monday, we join with other nonprofits in asking people to give back to others. We're hoping to raise $100,000 to fund our Pets for Life program's essential animal care services in December – a program that gives back to so many animals and the people who care about them. With every $1 donated, Wellness Natural Pet Food will provide one bowl of food to help feed pets in the program. I hope you will join us to support this very worthy program that is making a difference to the lives of pets and their people every day.