Flying Squirrel Found During Hurricane Stays Warm In His Mom's Pocket
They take naps together during the day.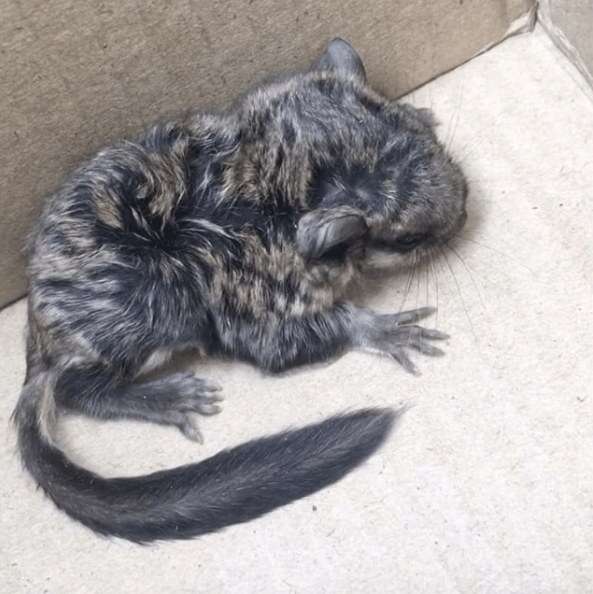 Dence and her family live in the part of Savannah, Georgia, that crosses the South Carolina state line. When the government issued a mandatory evacuation, most people left, but Dence's husband was obligated to stay because he's in the military. So Dence insisted on staying too. "We just hunkered down," Dence told The Dodo.
The morning after the Category 4 hurricane hit, Dence let her two dogs outside. One of them started sniffing something in the grass.
"I could see that something was in the grass, kind of jumping at my dog," Dence said. "So I called my dog over and I had my husband go out there and see what it was."
What Dence's husband found was a tiny Southern flying squirrel, whom Dence estimated to be about 4 weeks old.
"He was still a baby, and shouldn't have been out of his nest, and his eyes had just opened like a week or two before that," Dence said. "He was wet and cold, so we brought him inside. We didn't have any power, so we had to keep him warm with hand warmers."
Dence wanted to help the baby squirrel, whom she named Acorn, but she wasn't sure if he'd survive.
"It was very difficult to keep him warm," Dence said. "He was scared, and he was trying to bite me the first day, so I couldn't really handle him too much."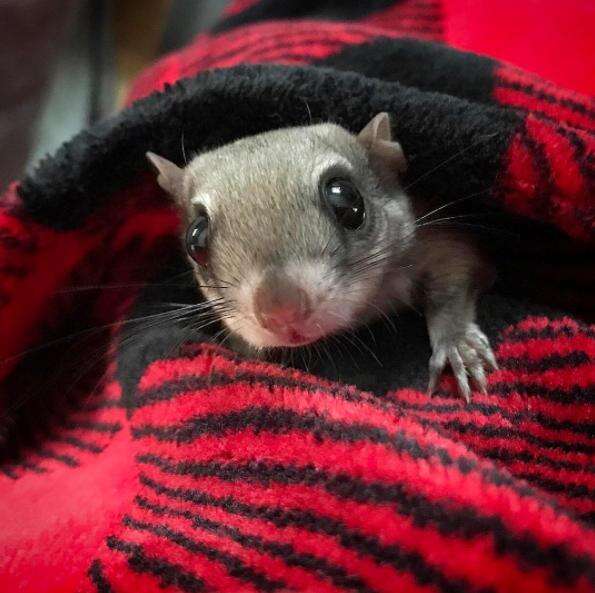 Luckily for Acorn, Dence is a veterinary technician, so she had a basic understanding of how to take care of him, but she was concerned about his health nonetheless. The hurricane had brought unseasonably cold weather to the area, and Acorn was too young to make his own body heat. The make matters worse, the power had gone out during the storm.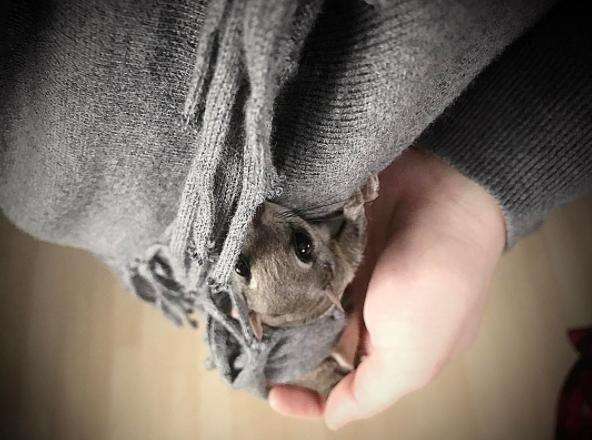 "I was pretty worried," she said. "He had just enough strength to chirp a little bit - he was making high-pitched chirping noises, I think trying to find his mom. But other than that, he was pretty weak. I think that he was pretty close to dying."
Eventually Acorn started to trust Dence, and she started tucking him into her sweatshirt pocket. Then, as he got more comfortable, she kept him inside her sweatshirt. "I'd wear sports bras, and he'd curl up in my sports bra," she said.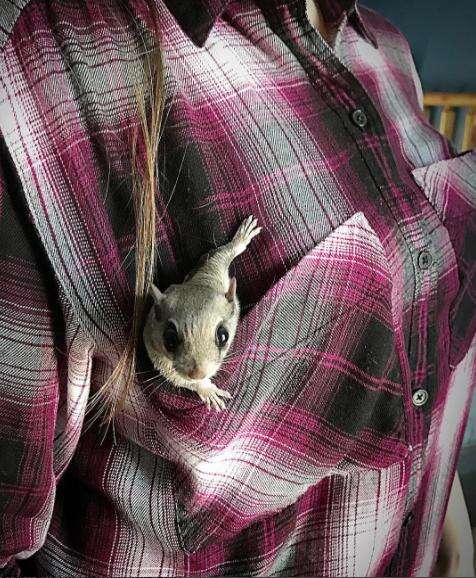 Dence initially fed Acorn kitten milk, but when stores reopened a couple days after the storm, she was able to get him the correct kind of formula. Still, they had no power for five days, so Dence would warm the milk out on the grill.
"I'd bring him outside and hold him in my sweatshirt in the pocket, and hold him close to the grill, so the heat of the grill would kind of warm him up," Dence said.
With Dence's love and care, Acorn was able to grow bigger and stronger. To help Acorn remain somewhat wild, Dence has kept him isolated from her two dogs and three cats.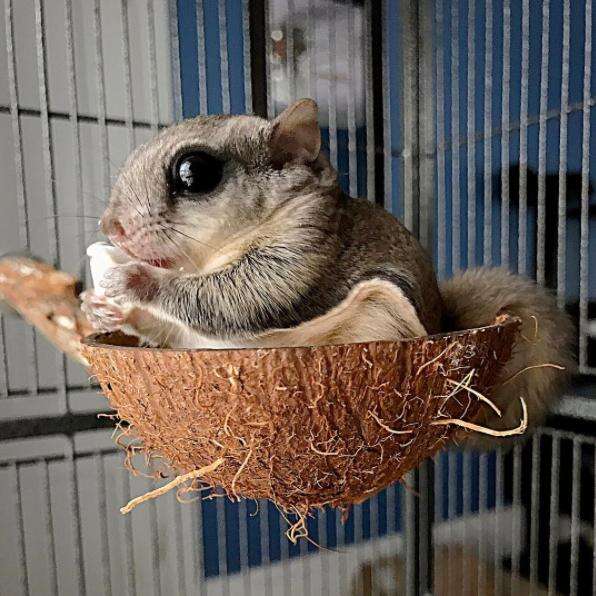 "He has a big cage made for sugar gliders," Dence said. "If I'm home, he has free roam of my room, so he can do whatever he pleases."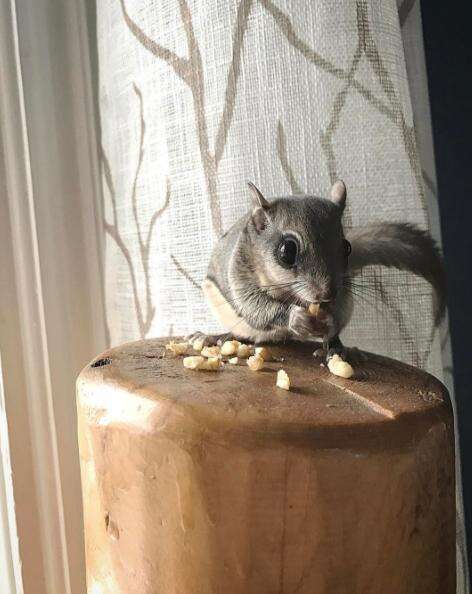 Doing what he pleases usually means "foraging" for nuts, and stashing them around Dence's room.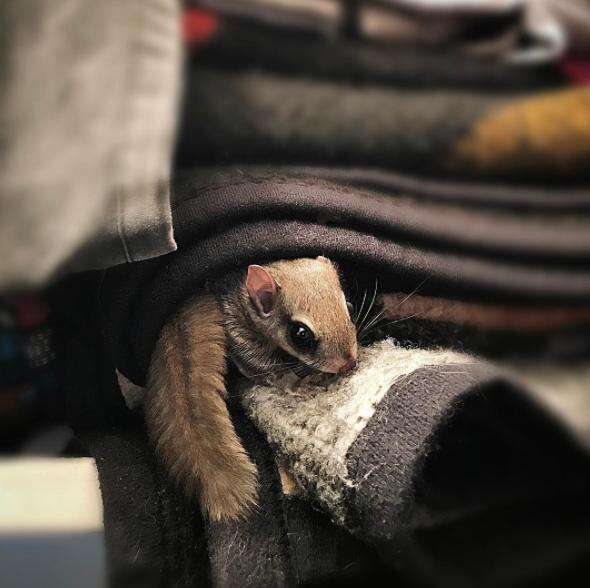 "I'll hide nuts and make him find them, and he'll stash them in his little house he has, or in my pillowcase," Dence said. "A lot of times, I'll go to bed, and the walnuts will be stabbing me under my blanket."
Like all flying squirrels, Acorn is nocturnal, so he sleeps during the day, and this is when he's the most affectionate, according to Dence. "He's so soft, and he just loves cuddling," she said. "During the day, we'll take naps together."
But at night, Acorn likes to "fly" or glide, which he's able to do with a special membrane that extends between his front and rear legs.
"It's like the way a person would hang glide," Dence explained.
Acorn is only 5 months old now, so he has some more growing up to do before Dence can look at releasing him back into the wild. She thinks he'll need to be about a year old before he's ready. Until that time, she's enjoying every moment she has with Acorn, and the feeling is clearly mutual.