It looks like a pretty normal, if dreary, day: A cloudy sky, a couple of birds, a copse of trees. Nothing too strange (beyond the fact that the videographer did a good job filming in landscape).
But then a flock of birds alights on the tree ...
... and the leaves explode into a swarm of feathered bodies.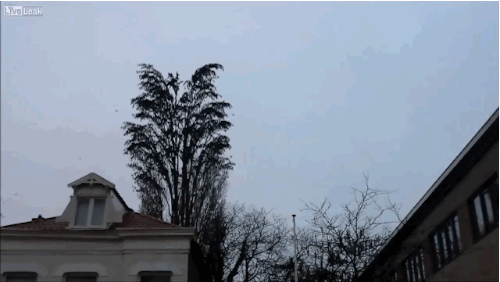 From the video description, it's unclear what species of birds is engulfing the heavens (bird experts, please chime in below!) but starlings are one species certainly capable of incredible flocking feats like this.
The way starlings flock in such large numbers is still a bit of a mystery. At Audubon magazine, some bird experts explain it might be a combination of acute sight and sound skills that lets each bird sense the direction of his or her neighbor.
For the whole foliage-to-flock transformation, check out the video below: