Cutest Ad Shows Why Everyone Needs A Home For The Holidays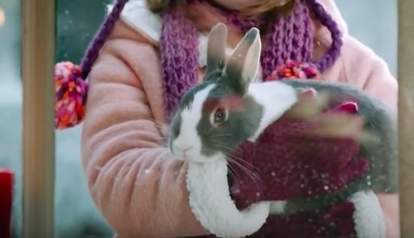 All this rabbit wants for Christmas is to be safe - and he ends up with so much more.
A heartwarming holiday commercial shows why a loving home for the holidays is so important. The ad, which was released last year for Netherlands book and electronics retailer Bol.com, tells the story of a small pet rabbit named Flappie who lives in a hutch in a family's yard.
Over the course of the commercial, Flappie watches apprehensively as his family prepares for the holiday season, including looking up a recipe for rabbit and setting the dinner table. When the father finally comes to fetch Flappie for the holiday celebration, the little rabbit braces himself for the worst - but ends up with something so much better.
The commercial is likely a reference to a Dutch Christmas song called "Flappie," which tells the story of another Christmas rabbit but ends in a decidedly more macabre way. We couldn't be happier that this ad takes a happier turn - and shows why the most important thing to be grateful for this holiday season is a home.
Unfortunately, there are still thousands of animals who aren't so lucky. If you're thinking about bringing a new pet home for the holidays, visit Adopt-A-Pet.com to view needy animals near you (but remember, animals should never be given as pets unless their new owner knows about it and is prepared!)