Five in Fifteen: Five Huge Accomplishments for Farm Animals in 2015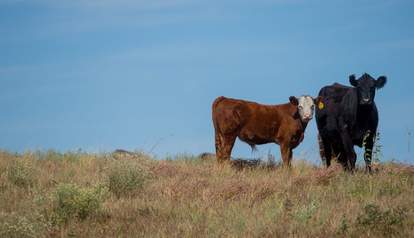 Farm animals represent the largest group of animals institutionally abused in our society, and they're too often abused in horrific ways. But there's hope. The previous year brought great progress for farm animals, marking the most successful year for farm animal advocates to date. Here's a look at some of those top achievements:

1) Cage-free coup
It may have officially been the year of the sheep, but when it comes to progress for animals, 2015 really was for the birds. Some of the world's biggest food companies, like Nestlé, McDonald's, Costco, Starbucks, Taco Bell, Panera Bread, Aramark, Sodexo, Compass Group and more-announced timelines for eliminating battery cages-cruel cages in which the vast majority of egg-laying hens are confined-from their supply chains and switching to exclusively cage-free eggs, leading United Egg Producers to say, "We don't have any options. The activists are ripping apart conventional cages." Cage free doesn't mean cruelty free, but it's a major improvement for animal welfare and The Humane Society of the United States applauds these companies.

2) Cracking down on confinement
Citizens for Farm Animal Protection, a coalition of advocates and organizations in Massachusetts working to end the cruel confinement of veal calves, egg-laying hens and pigs spearheaded an epic ballot measure volunteer signature drive, turning in more than twice the signatures needed to advance toward 2016's ballot. Over a thousand volunteers helped reach and surpass the campaign's signature gathering goal, collecting over 130,000 signatures in just 66 days to help put the initiative on the ballot. If enacted, the new law would not only make the cruelest cages and crates illegal, but would also create a retail standard with the same basic animal care rules, speeding the cage-free future in a dramatic fashion and eliminating gestation crates.

3) Meat-free momentum
Americans are eating more meat-free meals and fewer animal-based meals. In fact, we raised and killed 400 million fewer individual animals last year than we did ten years prior, marking the first significant drop in decades.
Dozens of entire school districts across the country launched meatless days in 2015, including some of the nation's largest-like Dallas and Fort Worth schools. And giant food service companies, like Compass Group, the world's largest food service company, launched a plant-based dining station for its education and business accounts. Whether out of concern for health, animals, or like the Terminator Arnold Schwarzenegger, the drought, more and more people are putting more plant-based meals on their plates.
At The Humane Society of the United States, we advocate for compassionate eating - or the three Rs: "reducing" or "replacing" consumption of animal products, and "refining" our diets by choosing products from sources that adhere to higher animal welfare standards.

4) Ding dong, the ag-gag bills are dead
The HSUS, with the help of a coalition of other organizations, led the defeat of legislation designed to hide the activities of factory farms and keep the public in the dark about the welfare of animals raised for food. These and other bad bills for farm animals failed to pass in Missouri, Washington, Colorado, Arizona, Kentucky, Montana and Arkansas. In Arizona, the governor issued his first-ever veto (on any topic), quashing the bill which would have removed farm animals from the state's animal cruelty code and prevented investigators from exposing food safety issues and animal abuses on factory farms. The undercover investigations that these efforts try to criminalize are important vehicles to help protect farm animals. Whistleblowing employees and undercover investigations have repeatedly exposed unsafe working conditions, animal abuse, environmental problems, and food safety risks at factory farms. Yet rather than clean up its act, agribusiness instead has sought to pass bills to punish those who seek to expose the abuses.
While these anti-whistleblower bills can take many forms, their goal is always the same: stop undercover investigators, and thereby the public, from learning about cruel practices Americans would never support if they saw them.

5) Start up success
Perhaps the most effective way to help farm animals is eating more plant-based foods and fewer animal-based foods. A host of companies hoping to make that easier and more mainstream continued to build momentum in 2015. Not only did Google reportedly try to buy Impossible Foods, the innovative food company creating the most meat-like plant-based burger on the market, but a former McDonald's CEO joined the board of plant-based food start-up Beyond Meat signaling that plant-based food is on the rise.
And it was a big year for Hampton Creek, which not only debuted dressings and pancake mixes made without eggs, but won a food fight against the egg industry and its competitors when the FDA ruled against a frivolous effort to block the company from labelling one of its products as mayonnaise. These plant-based pioneers are helping spare millions of animals from suffering on factory farms and slaughter.
Kristie Middleton is the Senior Food Policy Director of farm animal protection at The Humane Society of the United States.