US Supreme Court Could Decide If Fish Should Be Performing Pedicures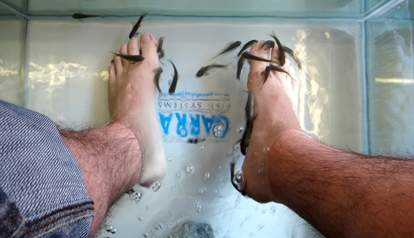 <p><a class="checked-link" href="https://www.flickr.com/photos/matlock-photo/6295453420/in/photolist-7LbFJB-9jfXpP-6XeQXy-aAg85k-aAiQYm-aAgajR-aAg9gF-aAiS9S-aAj14C-8AsSm6-8m6B8t-8At1bP-8Aw5pd-8At1ve-8m6zv4-8AwhXL-8AtcWx-8Aw6aW-8Aw6tU-8AsSvv-8AwhQs-8At1hB-8Aw6nj-8m8HRy-8At9tZ-jgR3fo-cdteLL-cdtfdJ-cdtf3s-8fwi32-atdtWU-ap8XqD-7nuG4d-b2Dy9H-7nuGaN-9c2YoQ-7nqM9X-7nuFPQ-7nuFzu-7nqLUz-FE6is-8ssXUY-8aRxoK-96aVBd-ocBBGz-8aUPWq-eH9eZZ-fByM2p-4EmCXU-636P8i">Flickr/Chris Barnes</a></p>
Not long after arriving on the scene in the United States, these fish pedicures became a subject of scrutiny. Although the Centers for Disease Control is unaware of illness resulting from fish pedicures, they warned that because the fish could not be "disinfected" between treatments, an infection could potentially be spread. But that was not the CDC's only concern.
In order to get the Garra rufa to feed on people's feet, they have to be starved, which the CDC said "might be considered animal cruelty."
The RSPCA in the U.K. echoes concerns of animal welfare:
Water quality is of paramount importance in maintaining healthy fish. Having people bathe in the water with the fish is likely to affect quality, particularly if they are wearing any lotions or other toiletries that could leach into the water. Similarly, chemicals used to disinfect tanks and to clean patients' feet beforehand would have to be non-toxic to the fish.
Although Vong's legal tussle has been centered on whether the pedicures could be harmful to people, the ruling could have animal welfare implications as well - at least for the countless little fish confronted by human feet.