Flood Leaves 'River Monster' Stranded In Fence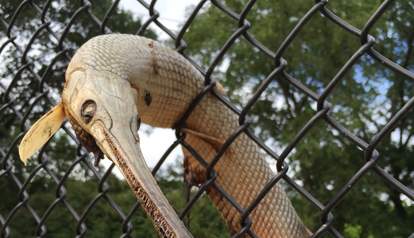 In May, waters around Dallas rose above normal levels. The Trinity River, which runs through the city, had retained so much rainfall that its depth more than doubled to 40 feet by the end of the month. Among the destroyed homes and human lives lost, wildlife were also affected by the rising waters.
Andrés Ruzo, a geoscientist and National Geographic explorer, captured this image of a recently deceased fish who'd gotten carried away by the floodwater - and, sadly, lodged in a fence.
The fish is part of a 100-million-year-old species. And even though he has a bit of a monstrous appearance, he's of course not a river monster at all. He's a juvenile longnose gar, a freshwater fish with a sizable population of over 100,000 adults in North America. Though other subspecies of gar can reach up to 10 feet long, this particular fish is 2 feet, which is about the subspecies's average size.
In his post on National Geographic's website, the photographer noted that, "Living fossils like the gar are a reminder that our buildings and byways are a very recent arrival to this ancient landscape."
The gar fittingly earned his name from the Anglo-Saxon word for "spear". However, the species far predates any Anglo-Saxon language. These creatures have swam on Earth for the past 100 million years without significant evolutionary changes.
The plight of other animals
Fish were not the only nonhumans affected by the flooding. Shelters for domestic animals reached full capacity as some shelters were flooded and new animals were taken in.
Austin residents have stepped up to the challenge of caring for the animals affected by the flood. Here's a picture of residents waiting in line to become foster parents to dogs and cats who were misplaced by the flooding.
One adoption center broke a record for the most pets adopted in one month since the store's opening four years ago: 104 adoptions in 30 days.
If you want to learn more about how to help out shelters in Dallas, check out Dallas Animal Services' Facebook page, Austin Pets Alive!'s Facebook page or one of the many other animal shelters in Dallas. Or check out Adopt-a-Pet.com and consider adopting!
CORRECTION: A previous version of this article stated the fish in the picture belonged to a 100,000-year-old species. According to National Geographic, the gar species is 100 million years old and has remained "largely unchanged" over that time.