First Wolves Born In Oregon Cascades Since The 1940s Caught On Camera (And They're Adorable)
<p><a class="checked-link" href="https://www.flickr.com/photos/usfwspacific/">USFWS</a></p>
Wolf pups have officially returned to Oregon. The dad, OR-7, is the "wandering wolf" who made headlines when he traveled across Oregon to California and back while wearing a GPS collar. And his pups -- at least three, by the last count -- are the first to be born in Oregon's Cascade Mountain region since the 1940s, according to the U.S. Fish and Wildlife Service (USFWS).
The USFWS recently spotted OR-7, the female wolf and her pups on camera traps in a remote part of southern Oregon: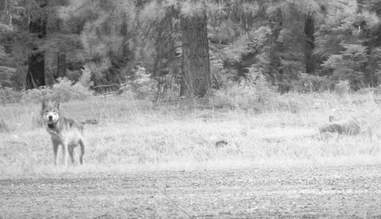 [The pups!]
[The new family man, OR-7.]
[OR-7's mate (who doesn't have a name or number).]
The gray wolf, extirpated across most of western America in the early 1900s, has made a successful return to states like Wyoming, Montana -- and now south Oregon. Welcome back, pups.
[Images via USFWS]