Firemen Should Be Able To Save Your Dog, Too
<p> <a href="http://www.daytondailynews.com/news/news/state-regional-govt-politics/animals-can-get-help-from-emts-in-emergencies-if-o/npQXz/" target="_blank"> Dayton Daily News</a> </p>
Animals who have been hurt in fires or other potentially life-threatening events may soon be treated for their injuries by emergency first responders.
Providing emergency services to a catDayton Daily News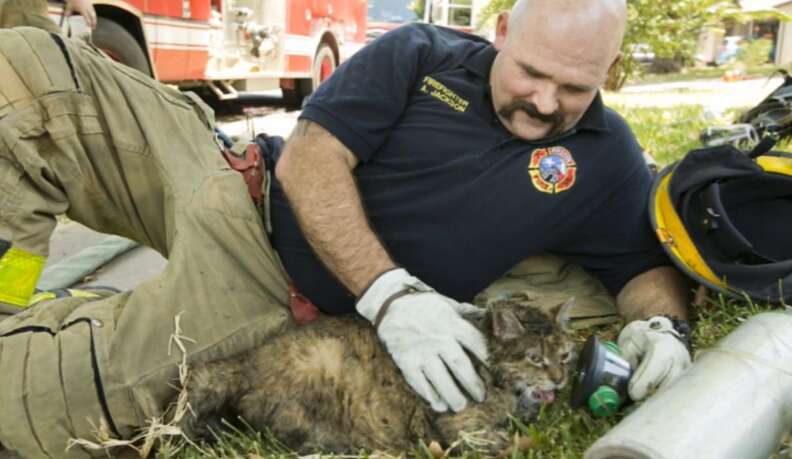 A bill is making its way through the Ohio legislature that states that although humans will be of priority, EMTs can now provide oxygen, triage and other aid to animals who suffer from smoke inhalation or a multitude of physical traumas.
"Previously EMTs and paramedics were not able to treat animals because their scope of license prevented them from doing that," Rep. Steve Huffman (R-Ohio) told the Dayton Daily News.
The bill, which is being sponsored by Rep. Timothy Ginter (R-Ohio), would also protect police animals who are injured during drug sweeps, the newspaper reports.
Police dogDayton Daily News
Animal welfare groups like the ASPCA applaud the effort in Ohio, recognizing that although there are clear guidelines with regard to the emergency treatment of people, it's far more vague for pets. "This legislation will clarify what an Emergency Medical Technician or other medical professionals may do to stabilize an injured animal until it can be treated by a veterinarian. This bill can serve to help prevent not only the loss of companion animals, but service animals such as seeing-eye dogs and police K-9 units," Vicki Deisner, Midwest legislative director for the ASPCA, told The Dodo.
Some counties in the U.S. already recognize that pets not only need, but deserve, care from emergency services. Manatee County, Florida, is one of those regions.
"A few years ago we had a service organization donate animal oxygen masks for all fire departments to carry," Lee Whitehurst, deputy chief of the East Manatee Fire Rescue District, told The Dodo.
Whitehurst says the donation spawned a major effort by the local fire department to care for pets who are injured in fires or car accidents when the department is called to a scene. Manatee County has 40 fire trucks and now "every fire truck in East Manatee County carries oxygen masks for dogs," Whitehurst says. "In fact, there are three sizes for canines. So we can provide oxygen to all size dogs in a fire." (Whitehurst explains that because cats don't have snouts, they can actually be administered human oxygen masks.)
"On the fire side," Whitehurst says, "the most important thing we can do for an animal if it has smoke inhalation is to provide oxygen."
And although the department, equipment-wise, is really only armed with oxygen masks, "there are common sense things we can do," says Whitehurst. "Quite honestly, we will focus on the human patient first, but if we can deal with the animal and, say, it is shot and there is bleeding, that requires the same science as if the animal were a person." However, adds Whitehurst, "doggy CPR is different than human CPR, and there needs to be training on that."
Dr. Kiko Bracker, an emergency veterinarian at the Angell Animal Medical Center in Boston, Massachusetts, says that veterinarians are obviously trained to deal with animals in the event of a life-threatening emergency. But, "If the alternative to veterinary CPR is to do nothing, however, then first responders should perform the CPR that they have been trained in," she told The Dodo.
Manatee County also works closely with an emergency pet ambulance to transport the animals from the scene of an accident or fire to a local emergency hospital.
"We have a specially made oxygen box for small dogs, for cats, heart patients and respiratory patients," Cheryl Brady, a former East Manatee volunteer firefighter and current owner of Vet Care Express Animal Ambulance, told the Bradenton Herald. "We have really been able to help save a lot of lives." The ambulance can be called upon by the fire department 24/7.
Efforts like these - in Ohio and Florida - are not mandated to be nationwide. Ken Willette is the manager of the public fire protection at the National Fire Protection Association, which develops standards used by fire services. Willette told The Dodo that "in terms of making provisions to treat or transport, I'm not aware of anything happening on a national level, where an organization [including his own] has put out a standard or guideline [on aiding animals at the scene of a fire]."
"It would be a bit outside of our boundaries," explains Willette, "as we deal with equipment apparatus or training." But, he adds, "if someone was interested, our process is open and someone could submit a proposal and we would do a review of it to see if indeed it fits within our scope."
Emergency responder with dogDayton Daily News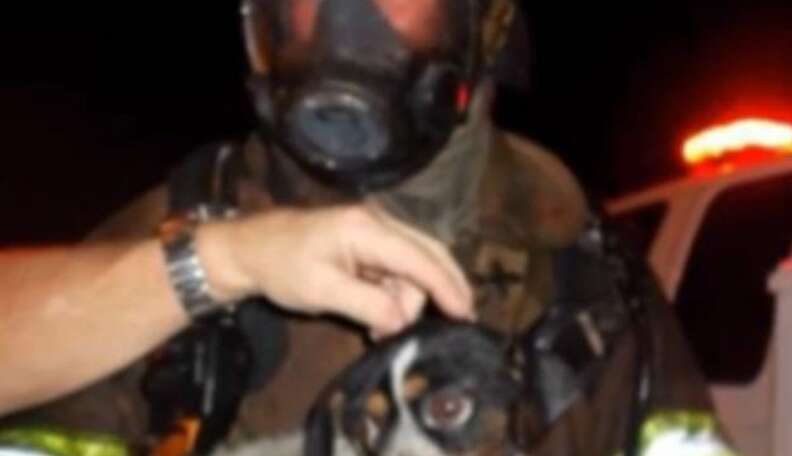 A call to the U.S. Fire Administration was not immediately returned.
Meanwhile, back in Ohio, House Bill 187 is moving toward the state senate. "It's terrible that we have to put into legislation like this something that seems so common sense," Bob Swickard, director of operations for Lifeteam EMS in East Liverpool, Ohio, told The Columbus Dispatch, "but that's the way society rolls."
For a Dayton Daily news story about the bill in Ohio, please watch here: