Firefighters Make An Itty-Bitty Oxygen Mask To Save 4 Tiny Fire Victims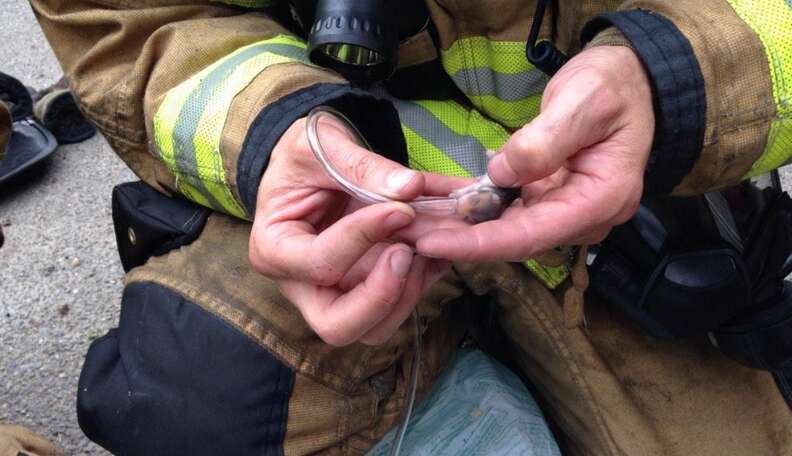 <p><a class="checked-link" href="https://twitter.com/LaceyFireDist3">Lacey Fire Department</a></p>
Firefighters put themselves in harm's way to save the lives of others every day. And one group of firefighters in Washington recently proved that the same holds true no matter how tiny those lives might be.
No humans were at home when a fire broke out in the town of Lacey last Friday , but while battling back flames inside the burning structure, firefighters discovered that it wasn't completely unoccupied. Seattle's KOMO News reports that in one of the smoke-filled rooms, they found a family of pet hamsters - father Oreo, mother Madonna and their three teeny little babies - suffering from smoke inhalation.
Administering first aid on any animal can be tricky, especially for creatures as tiny as baby hamsters. But this fire crew had been trained to treat animals, and they came equipped with a "Pet Emergency Pocket Guide" to help them through the process.
The firefighters fashioned an itty-bitty oxygen mask out of a piece of plastic tubing, delivering oxygen to each of the tiny house fire victims.
Despite the firefighters' quick-thinking, one of the baby hamsters was unable to be saved. The other four, however, pulled through - even though the blaze may have left their fur coats a little blackened with soot.
Battalion Chief Tim Hulse says that, alongside the hamsters, firefighters also found a precious document: a marriage certificate, written in crayon.
"Apparently they were married ... The family had made a marriage certificate for Oreo and Madonna," Hulse told news station KTLA. "It was pretty cute."
It's becoming more and more common for fire departments to have supplies to help animals in emergencies, but some still do not. Contact your local fire station to find out if they have life-saving equipment for pets, and check how you could help if they do not.
To learn about what to do when pets need emergency first aid, visit the ASPCA.